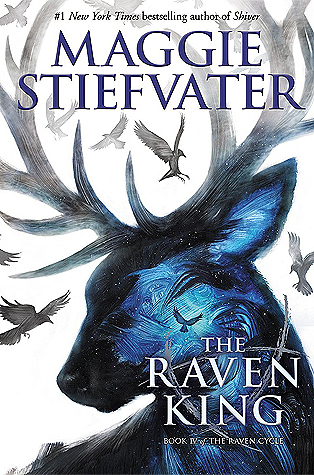 Titel:
The Raven King
Författare:
Maggie Stiefvater
Serie:
The Raven Cycle #4
Sidor:
438
Spoilervarning! Boken ingår i en serie, spoilers från tidigare böcker förekommer.
For years, Gansey has been on a quest to find a lost king. One by one, he's drawn others into this quest: Ronan, who steals from dreams; Adam, whose life is no longer his own; Noah, whose life is no longer a lie; and Blue, who loves Gansey…and is certain she is destined to kill him.

Now the endgame has begun. Dreams and nightmares are converging. Love and loss are inseparable. And the quest refuses to be pinned to a path.
Maggie Stiefvater är en sanslöst begåvad författare, och jag har älskat allt jag läst av henne. Väntan på den här avslutande delen i The Raven Cycle serien har varit lång, och jag var mer eller mindre livrädd när jag väl satte mig och påbörjade boken. Men The Raven King var helt makalös, och i slutänden en av mina favoriter bland hennes böcker.

Handlingen är lika magisk som konstig, och The Raven King är till och med konstig för att komma från Maggie Stiefvater, och det säger definitivt något. Precis som med föregående delar i serien så har boken lika delar hänfört mig, skrämt mig, krossat mitt hjärta och pusslat ihop det igen. Den har dessutom fått mig att skratta lika mycket som att gråta. Äntligen får alla mina frågor svar, och slutet var så makalöst bra att jag har svårt att återhämta mig nu i efterhand.

Karaktärerna är också fantastiska, och jag älskar dem alla. Mest Gansey & Ronan, men Blue, Adam, Noah, Maura, Calla, Mr Gray och nykomlingen Henry har alla en plats i mitt hjärta. Dessutom -->

Ronan & Adam. Jag dör. Finaste paret någonsin, och äntligen, äntligen hände det

, spoilers slut.

Jag tror att jag är lika kär i den här serien som karaktärerna är i varandra, och jag kunde inte vara mer nöjd med den här avslutande boken. Magisk, helt enkelt magisk, och jag rekommenderar absolut alla att läsa den
.
Favoritcitat:
"Adam had seen many of Ronan's dreams made real by now, and he knew how savage and lovely and terrifying and whimsical they could be. But this girl was the most Ronan of any of them that he's seen. What a frightened monster she was."
"No homework. I got suspended," Blue replied.
"Get the fuck out," Ronan said, but with admiration. "Sargent, you asshole."
Blue reluctantly allowed him to bump fists with her as Gansey eyed her meaningfully in the rearview mirror.
Adam swivelled the other way in his seat – to the right, instead of to the left, so that he was peering around the far side of the headrest. It made him look as if he were hiding, but Blue knew it was just because it turned his hearing ear instead of his deaf ear towards them. "For what?"
"Emptying another student's backpack over his car. I don't really want to talk about it."
"I do," Ronan said.
"Well, I don't. I'm not proud of it."
Ronan patted her leg. "I'll be proud for you."