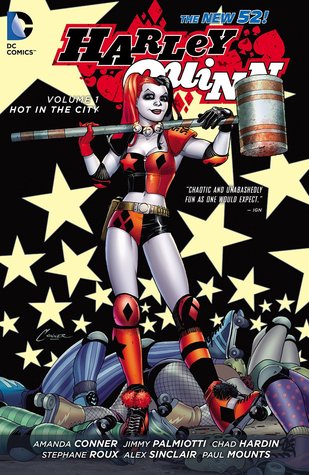 Titel:
Harley Quinn, Vol 1: Hot in the City
Författare:
Amanda Conner, Jimmy Palmiotti mfl.
Serie:
Harley Quinn #1 (N52)
Sidor:
224
Fresh from BATMAN: DEATH OF THE FAMILY and SUICIDE SQUAD, Harley Quinn returns to her first solo series in the New 52! The writing team of Jimmy Palmiotti (ALL STAR WESTERN) and Amanda Conner (BEFORE WATCHMEN: SILK SPECTRE) unleashed Harley on an unsuspecting DC Universe, as she encounters various heroes and villains ... and leaves no one unscathed in her wake! With art by Chad Hardin and a slew of comics' best artists including Darwyn Cooke, Sam Kieth, Tony S. Daniel, Paul Pope, Walter Simonson and Art Baltazar!
Jag blev först fascinerad av Suicide Squad när jag stötte på dem i säsong 2 av Arrow. Detta ledde ganska snabbt till att jag såg filmen Batman: Assault on Arkham. Och där blev jag omedelbart förälskad i Harley Quinn. Detta växte sig ännu starkare i och med filmen Suicide Squad, och när jag beslöt mig för att börja med comics så var Harley överst på listan. Så det är kanske inte undra på att jag älskade Hot in the City.

Till och börja med så kan jag bara säga att jag älskade illustrationerna, och särskilt roligt var det i början när Harley blev ritad av olika konstnärer (och hennes interaktioner med dessa). Handlingen var dessutom sanslöst bra. Excentrisk, rolig och fullkomligt badass, precis som Harley själv. Jag älskade Harley och Ivys vänskap, jakten på ryska bad guys och befrielsen av alla djur. Varje historia hade sin charm, och det fanns inget jag inte gillade. Dessutom fick den mig att skratta högt flertalet gånger, och det uppskattade jag mycket.

Harley Quinn är en vansinnigt intressant karaktär, och kanske en av mina största favoriter just nu (och kanske även någonsin). Jag ser fram emot att lära känna henne ännnu bättre framöver, och är glad att jag har volym 2 hemma också. Harley Quinn: Hot in the City innehöll allt jag kunnat önska mig, och jag rekommenderar den mer än gärna.