Titel:
Charm & Strange
Författare:
Stephanie Kuehn
Serie:
-
Sidor:
213
Andrew Winston Winters is at war with himself.

He's part Win, the lonely teenager exiled to a remote Vermont boarding school in the wake of a family tragedy. The guy who shuts all his classmates out, no matter the cost.

He's part Drew, the angry young boy with violent impulses that control him. The boy who spent a fateful, long-ago summer with his brother and teenage cousins, only to endure a secret so monstrous it led three children to do the unthinkable.

Over the course of one night, while stuck at a party deep in the New England woods, Andrew battles both the pain of his past and the isolation of his present.

Before the sun rises, he'll either surrender his sanity to the wild darkness inside his mind or make peace with the most elemental of truths—that choosing to live can mean so much more than not dying.
Jag har tidigare läst Complicit av Stephanie Kuehn och tyckte väldigt mycket om den. Så pass mycket att jag genast beställde hem Charm & Strange. Dock har det tagit mig nästan två år innan jag väl läste den, men mestadels gillade jag den.

Det är oerhört svårt att prata om den här bokens handling utan att spoila något, så jag tänker inte ens försöka. Vad jag kan säga är dock att större delen av tiden hade jag ingen aning om vad som pågick, och att slutet var enastående oväntat. Jag hade aldrig ens funderat åt det hållet. Tyvärr så fastnade jag inte alls för karaktärerna, och därför blir betyget betydligt lägre än vad slutet förtjänade. Men Charm & Strange var bra, ingen talan om saken, och helt klart värd att läsa enbart för slutets skull...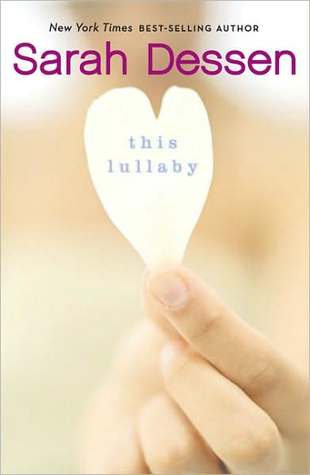 Titel:
This Lullaby
Författare:
Sarah Dessen
Serie:
-
Sidor:
345
When it comes to relationships, Remy doesn't mess around. After all, she's learned all there is to know from her mother, who's currently working on husband number five. But there's something about Dexter that seems to defy all of Remy's rules. He certainly doesn't seem like Mr. Right. For some reason, however, Remy just can't seem to shake him. Could it be that Remy's starting to understand what those love songs are all about?
Efter att ha läst, och gillat, Sarah Dessens Just Listen tidigare i sommar, så dröjde det inte länge innan jag även plockade upp This Lullaby. Och precis som med Just Listen, så tyckte jag även mycket om denna bok.

Handlingen kändes somrig och mysig, och jag uppskattade verkligen Remys bittra och bitchiga attityd. Det är inte så ofta man ser det hos en huvudkaraktär, och dessutom tycker jag att hennes utveckling kändes väldigt genuin. Jag gillade även Dexter mycket, och tycker att de båda var perfekta för varandra.This Lullaby har fått mig att vilja läsa mer av Dessen, vilket känns skönt i och med att jag har undvikit henne sedan The Truth About Forever. Så för den som söker en somrig och romantisk contemporary, så rekommenderar jag gärna This Lullaby.