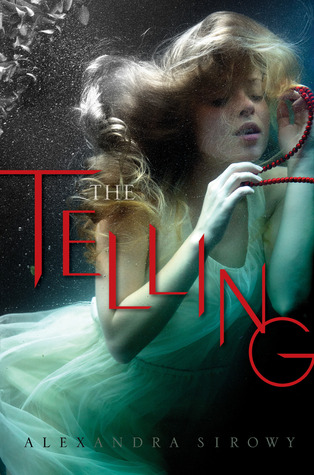 Titel:
The Telling
Författare:
Alexandra Sirowy
Serie:
-
Sidor:
387
Lana used to know what was real.

That was before when her life was small and quiet.
Her golden step-brother, Ben, was alive, she could only dream about bonfiring with the populars, their wooded island home was idyllic, she could tell the truth from lies, and Ben's childhood stories were firmly in her imagination.

Then came after.

After has Lana boldly kissing her crush, jumping into the water from too high up, and living with nerve and mischief. But after also has horrors, deaths that only make sense in fairy tales, and terrors from a past Lana thought long forgotten: Love, blood, and murder.
Jag läste Alexandra Sirowys debutbok, The Creeping, när den kom ut för cirka ett år sedan och absolut älskade den. Så givetvis var hennes nya bok, The Telling, ett måste på min TBR och jag läste den i princip genast efter att jag fått hem den. Det här är vad jag tyckte;

Jag har hamnat i något av en lässlump, och har därför väldigt svårt för att koncenterar mig på att läsa. Det blir mest på bussen till och från jobbet, hemma kollar jag bara på TV-serier. Så därför känner jag att The Telling kanske inte riktigt fick den uppmärksamhet den förtjänade. Och det är ett stort beröm till boken att jag, trots allt detta, fann den att vara oerhört bra. Precis som med The Creeping så leker Sirowy med gränsen för fantasi och verklighet, och större delen av tiden så hade jag ingen aning om vad jag skulle tro. Det hela var vansinnigt spännande och riktigt obehagligt. Jag önskar bara att jag orkat läsa mer i längre perioder för att få till den där lilla skräckkänslan som boken faktiskt innehåller.

Av karaktärerna så tyckte jag väldigt mycket om Lana. Jag gillar att boken handlar om mod, och jag älskade hur Lana mer och mer tog plats i sitt liv. Jag gillade även bästisen Willa, Carolyn och Becca. Jag var även väldigt förtjust i tillbakablickarna av Lana och Bens relation och deras barndom tillsammans.

The Telling var både spännande och välskriven. Intressanta karaktärer och fulla av scener som får en att fundera på vad det är som pågår. Om läslusten hade varit på topp så är jag säker på att The Tellings betyg hade blivit ännu högre. Idag hamnar det dock på 8 av 10, och det är inte fy skam det eller...