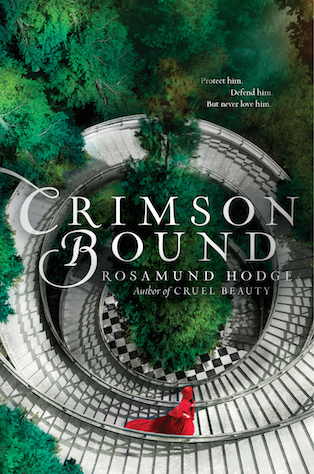 Titel:
Crimson Bound
Författare:
Rosamund Hodge
Serie:
-
Sidor:
436
When Rachelle was fifteen she was good—apprenticed to her aunt and in training to protect her village from dark magic. But she was also reckless— straying from the forest path in search of a way to free her world from the threat of eternal darkness. After an illicit meeting goes dreadfully wrong, Rachelle is forced to make a terrible choice that binds her to the very evil she had hoped to defeat.

Three years later, Rachelle has given her life to serving the realm, fighting deadly creatures in an effort to atone. When the king orders her to guard his son Armand—the man she hates most—Rachelle forces Armand to help her find the legendary sword that might save their world. As the two become unexpected allies, they uncover far-reaching conspiracies, hidden magic, and a love that may be their undoing. In a palace built on unbelievable wealth and dangerous secrets, can Rachelle discover the truth and stop the fall of endless night?
För lite mer än ett år sedan så läste jag Rosamund Hodges debutbok, Cruel Beauty, och blev handlöst förälskad i den. Hodge hamnade genast på min auto buy lista och jag har sedan dess längtat efter hennes nästa bok. Och nu när jag äntligen har läst Crimson Bound så kan jag inte annat än att flytta henne ännu högre upp bland mina favoritförfattare, för som jag älskade den här boken.
Handlingen var fantastiskt fängslande, men tyvärr var jag inne i en manisk period när jag började att läsa boken, och hade väldigt svårt att koncentrera mig. Efter 20 sidor var jag så oerhört rastlös att jag var tvungen att göra något annat, och det tog ett par dagar för mig att läsa klart boken, trots att det var långledigt. Jag hade nog, om möjligt, tyckt ännu mer om den om jag hade haft lite ro, och jag ångrar nog att jag inte väntade med att läsa den. Men när jag väl kunde koncentrera mig var boken makalöst bra och väldigt spännande. Jag absolut älskade handlingen och jag älskar att Hodge kan ta en älskad saga och göra den helt till sin egen. Boken har faktiskt inte så väldigt mycket gemensamt med Rödluvan så som jag känner igen den, och jag fann nog mer igenkänning hos den nordiska mytologin. Så Crimson Bound är en alldeles unik blandning som definitivt är värd att läsa.
Karaktärerna var alla väldigt fascinerande, och jag absolut älskade Rachelle. Hon var oerhört stark och modig. Jag gillade även Armand och relationen mellan honom och Rachelle. Dessutom var både Amelie och Erec intressanta karaktärer. I övrigt så tycker jag att de flesta kvinnliga karaktärer i den här boken var väldigt starka och beundransvärda. Men min(a) favoritkaraktär(er) var faktiskt Zisa (och Tyr) och jag önskade att deras historia hade fått ta en ännu större plats.
Crimson Bound var allt jag hade önskat mig, och en absolut magisk bok. Ett måste att läsa och jag rekommenderar den mer än gärna.
Favoritcitat:
"There were three of them, all with rapiers, and she had only a dagger. It would have been a wretchedly uneven fight, if she were human.

It was still a wretchedly uneven fight; it was just uneven in her favor."