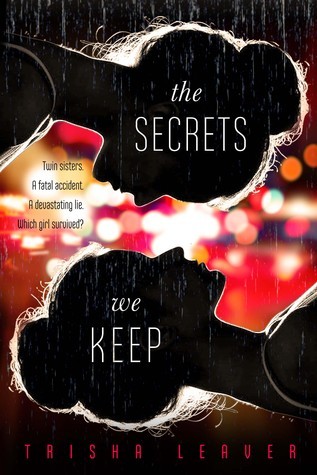 Titel:
The Secrets We Keep
Författare:
Trisha Leaver
Serie:
-
Sidor:
294
Ella and Maddy Lawton are identical twins. Ella has spent her high school years living in popular Maddy's shadows, but she has never been envious of Maddy. In fact, she's chosen the quiet, safe confines of her sketchbook over the constant battle for attention that has defined Maddy's world.

When—after a heated argument—Maddy and Ella get into a tragic accident that leaves her sister dead, Ella wakes up in the hospital surrounded by loved ones who believe she is Maddy. Feeling responsible for Maddy's death and everyone's grief, Ella makes a split-second decision to pretend to be Maddy. Soon, Ella realizes that Maddy's life was full of secrets. Caught in a web of lies, Ella is faced with two options—confess her deception or live her sister's life.
Den här boken har jag varit nyfiken på sedan jag först hörde talas om den, och det var något med premissen som kändes så himla lockande. Boken fick därför inte alls ligga särskilt länge i min att läsa hylla, och jag fann att den var minst lika bra som jag först hade förväntat mig.
Handlingen var så fruktansvärt hjärtskärande och jag led med Ella genom hela bokens gång. Jag kan inte tänka mig att det finns så många saker som är värre än att känna sig ansvarig för sin tvillingsysters död, och jag tycker att det hela hanterades väldigt väl. Sorgen Ella kände och hennes val att ta över sin systers identitet så att hon skulle få leva, samt hur hon sakta men säkert även förlorade sig själv, gjorde mig väldigt känslosam, och den här boken fick mig att börja gråta x antal gånger. Den var dessutom både väldigt snabbläst och väldigt fängslande, vilket fick sidorna att bara svischa förbi.
Jag gillade verkligen karaktärerna, och då allra helst Ella, Josh och Alex. De kändes väldigt äkta och levande, och jag var mycket investerad i deras berättelse. I övrigt så tyckte jag även om föräldrarna, Molly och det lilla man fick se av Maddy.
Slutet var dessutom riktigt bra och tårarna bara rann. The Secrets We Keep var en väldigt gripande bok och jag rekommenderar den mer än gärna.