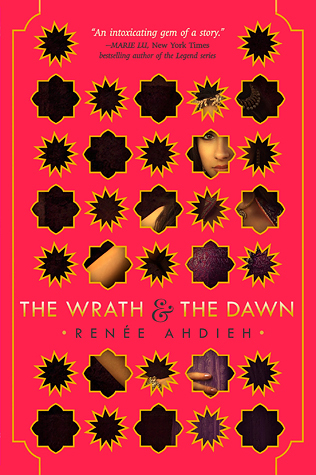 Titel:
The Wrath and the Dawn
Författare:
Renee Ahdieh
Serie:
The Wrath and the Dawn #1
Sidor:
388
Every dawn brings horror to a different family in a land ruled by a killer. Khalid, the eighteen-year-old Caliph of Khorasan, takes a new bride each night only to have her executed at sunrise. So it is a suspicious surprise when sixteen-year-old Shahrzad volunteers to marry Khalid. But she does so with a clever plan to stay alive and exact revenge on the Caliph for the murder of her best friend and countless other girls. Shazi's wit and will, indeed, get her through to the dawn that no others have seen, but with a catch . . . she's falling in love with the very boy who killed her dearest friend.

She discovers that the murderous boy-king is not all that he seems and neither are the deaths of so many girls. Shazi is determined to uncover the reason for the murders and to break the cycle once and for all.
The Wrath and the Dawn har stått på min önskelista sedan jag först hörde talas om den, och jag förhandsbokade den flera månader innan dess release. Så att mina förväntningar var höga är ganska självklart, och som tur var så tycker jag att boken levde upp till dessa.
Handlingen var väldigt spännande, och det fanns ett driv i historian som gjorde att jag knappt ville lägga ifrån mig den. Trots att egentligen inte så jättemycket händer, så var det hela väldigt fängslande och jag som inte riktigt har någon större koll på originalberättelsen fann denna retelling av A Thousand and One Nights
att vara oerhört bra. Dessutom älskade jag världen och det var så kul med något nytt (läs POC karaktärer och en bok som inte utspelar sig i ett mestadels vitt samhälle) för en gångs skull. Även språket var väldigt levande och vackert, och i det stora hela så älskade jag det mesta med boken.
Jag var dessutom väldigt förtjust i karaktärerna, och allra helst Shazi blev något av en favorit hos mig. Hon är smart, modig, kvicktänkt och tuff, och jag älskade att hon alltid hade svar på tal. Jag tyckte även mycket om Khalid, och jag älskar relationen mellan de båda. Trots att den gick aningen fort fram så var den samtidigt väldigt fin och den kändes helt enkelt bara så rätt.
Slutet var sjukt spännande och jag längtar redan oerhört efter nästa bok. The Wrath and the Dawn hamnar helt klart på favorithyllan och jag rekommenderar den mer än gärna.