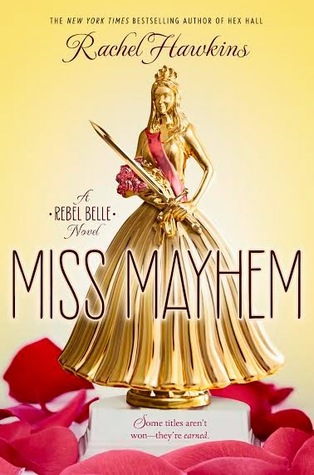 Titel:
Miss Mayhem
Författare:
Rachel Hawkins
Serie:
Rebel Belle #2
Sidor:
273
Spoilervarning! Boken ingår i en serie, spoilers från tidigare böcker förekommer.
Life is almost back to normal for Harper Price. The Ephors have been silent after their deadly attack at Cotillion months ago, and best friend Bee has returned after a mysterious disappearance. Now Harper can return her focus to the important things in life: school, canoodling with David, her nemesis-turned-ward-slash-boyfie, and even competing in the Miss Pine Grove pageant.

Unfortunately, supernatural chores are never done. The Ephors have decided they'd rather train David than kill him. The catch: Harper has to come along for the ride, but she can't stay David's Paladin unless she undergoes an ancient trial that will either kill her . . . or connect her to David for life.
Rachel Hawkins har skrivit en av mina absoluta favoritserier, Hex Hall trilogin, och jag älskar hennes sätt att skriva och hennes humor.
Även Rebel Belle blev en favorit när jag läste den för cirka ett år sedan, och jag har längtat efter den här uppföljaren sedan dess. Om den levde upp till förväntningarna? Ja, det tycker jag nog.
Handlingen var väldigt spännande och det är ofattbart att så mycket hinner hända på under 300 sidor. Jag gillar verkligen den här världen med paladiner, orakel och magiker, och det enda jag önskar är att jag skulle få ännu mer utav det hela. 273 sidor är helt enkelt för lite. Humorn är dessutom, och som jag redan nämnt, oerhört rolig och jag skrattade högt flera gånger.
Karaktärerna är alla väldigt härliga och jag absolut älskar Harper. Hon är väldigt lätt att tycka om, och både smart och charmig. Jag gillar dessutom David mycket, och jag gillar både Ryan, Bee och Harpers aunts (som för övrigt päminner mig väldigt mycket om Ethan i Beautiful Creatures aunts).
Slutet kändes väldigt frustrerande och jag kan inte förstå att jag måste vänta ett år på fortsättningen. Jag är inte alls okej med det hela, och jag är väldigt nyfiken på hur allt ska sluta. Miss Mayhem var en väldigt bra bok och jag rekommenderar gärna den här serien till dig som vill ha något roligt, spännande och snabbläst.
Favoritcitat:
"Honestly, not enough people know how to use good manners as a weapon."