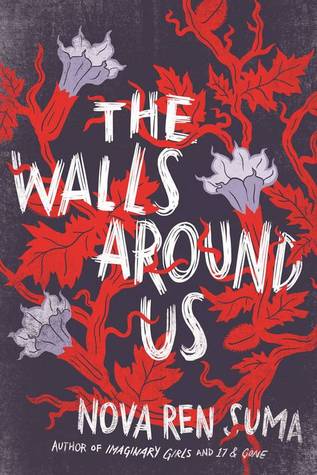 Titel:
The Walls Around Us
Författare:
Nova Ren Suma
Serie:
-
Sidor:
319
On the outside, there's Violet, an eighteen-year-old dancer days away from the life of her dreams when something threatens to expose the shocking truth of her achievement.

On the inside, within the walls of the Aurora Hills juvenile detention center, there's Amber, locked up for so long she can't imagine freedom.

Tying their two worlds together is Orianna, who holds the key to unlocking all the girls' darkest mysteries…
Efter att ha läst Nova Ren Sumas novell i Slasher Girls & Monster Boys, så var jag tvungen att ha mer och beställde genast hem The Walls Around Us (jag har även tidigare läst hennes 17 & Gone, men kommer inte ihåg så mycket. Efter den här så har den dock hamnat högt upp på omläsningslistan). Och det gjorde jag helst klart rätt i, för redan efter två kapitel så hamnade The Walls Around Us bland mina absoluta favoriter.
Det är svårt att prata om handlingen utan att spoila, och jag har till och med valt att inte ha med hela summeringen för jag tycker att man mår bäst av att veta så lite som möjligt om handlingen. Vad jag kan säga är att boken var både briljant och vacker. Kuslig och atmosfärisk, samtidigt som den krossade mitt hjärta. Språket är dessutom makalöst vacket, och varje ord gick rakt in i min själ. En sådan fin och sorglig historia som jag absolut älskade.
Även karaktärerna känns svåra att prata om, men jag älskade både Violet, Amber och Orianna, av olika anledningar och trots deras dåliga sidor. Om jag måste utnämna en favorit får det dock bli Amber, det var något särskilt med henne som genast gjorde att hon fastnade hos mig.
Slutet var så bra, och aningen chockerande. Men även så rätt. The Walls Around Us var en helt fantastisk bok och det fanns inget jag inte älskade med den. Nova Ren Suma får hoppa in på min auto-buy lista, och jag kan inte annat än att rekommendera absolut alla att läsa den här boken.