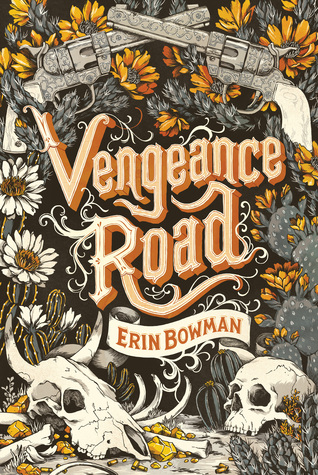 Titel:
Vengeance Road
Författare:
Erin Bowman
Serie:
-
Sidor:
323
When Kate Thompson's father is killed by the notorious Rose Riders for a mysterious journal that reveals the secret location of a gold mine, the eighteen-year-old disguises herself as a boy and takes to the gritty plains looking for answers and justice. What she finds are devious strangers, dust storms, and a pair of brothers who refuse to quit riding in her shadow. But as Kate gets closer to the secrets about her family, she gets closer to the truth about herself and must decide if there's room for love in a heart full of hate.
Först och främst så måste jag bara berömma omslaget. Alltså, kolla på det! Och det är 100ggr finare i verkligheten. Men hur som helst så har Vengeance Road funnits på min att läsa lista sedan jag först hörde talas om den, och jag hade förhandsbokat den månader innan dess release. Om den var värd det? Absolut!
Det här är den första Western boken som jag har läst och jag absolut älskade det. Det är precis som de gamla westernfilmerna jag älskade när jag var yngre, och jag kan inte låta bli att tänka att Vengeance Road skulle göra sig utmärkt som film. Dessutom älskade jag hela hämnd biten utav handlingen. Det är så ofta att karaktärerna inte riktigt löper linan ut, men inte Kate inte. Helt enastående.
Av karaktärerna så älskade jag Kate. Hon var tuff, modig och jag gillade verkligen hennes utveckling under bokens gång. Även Jesse och Will var väldigt charmiga och roliga att läsa om.
Vengeance Road var så bra. Spännande, full av twister och med en sanslöst intressant huvudkaraktär. Jag absolut älskade den här boken och jag rekommenderar den mer än gärna.