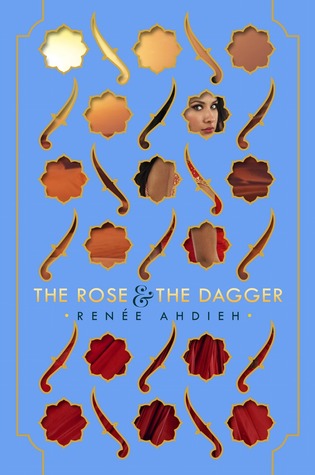 Titel:
The Rose & the Dagger
Författare:
Renée Ahdieh
Serie:
The Wrath and the Dawn #2
Sidor:
416
Spoilervarning! Boken ingår i en serie, spoilers från tidigare böcker förekommer.
In a land on the brink of war, Shahrzad is forced from the arms of her beloved husband, the Caliph of Khorasan. She once thought Khalid a monster—a merciless killer of wives, responsible for immeasurable heartache and pain—but as she unraveled his secrets, she found instead an extraordinary man and a love she could not deny. Still, a curse threatens to keep Shazi and Khalid apart forever.

Now she's reunited with her family, who have found refuge in the desert, where a deadly force is gathering against Khalid—a force set on destroying his empire and commanded by Shazi's spurned childhood sweetheart. Trapped between loyalties to those she loves, the only thing Shazi can do is act. Using the burgeoning magic within her as a guide, she strikes out on her own to end both this terrible curse and the brewing war once and for all. But to do it, she must evade enemies of her own to stay alive.
Jag tyckte mycket om The Wrath & the Dawn när jag läste den förra året, så givetvis har jag varit nyfiken på denna avslutande del, The Rose & the Dagger, sedan dess. Och som tur var så gillade jag även denna bok mycket.

Precis som i första boken så finns det ett driv i den här berättelsen som gör att man inte vill lägga ifrån sig den. Boken trollbinder från första sidan, och det är inte alla författare som lyckas med det. Handlingen var spännande, romantisk och magisk, och jag tyckte så mycket om den. Lite långsam från början, men dem levde mer än upp för det i slutet. Det var ett oerhört bra slut, spännande, smart och gripande. Jag är mer än nöjd över hur vi lämnar denna värld.

Shazi är min favoritkaraktär här, och jag gillar hur smart och modig hon är. Hennes humör, och att hon alltid står upp för sig själv och andra. Jag tycker även bra om Khalid, och relationen mellan de båda är så himla fin. Även Irsa och Rahim var väldigt fina tillsammans, och jag -->

tyckte att det var så sorgligt att de inte fick ett lyckligt slut tillsammans

, spoiler slut. Det enda jag har att klaga på är att männen i den här boken (bortsett från Rahim) drev mig halvt till vansinne emellanåt. Med sitt gnällande, och vägran att lyssna på andra, och sin övertygelse att man var den som visste bäst (ja, jag kollar på er, Tariq & Jalal).

The Rose & the Dagger var en mycket bra bok, och en perfekt avslutning på serien. Jag gillade den så mycket, och rekommenderar den mer än gärna.