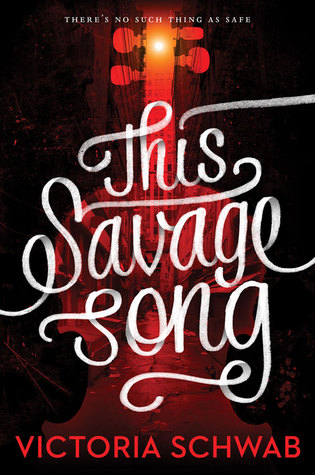 Titel:
This Savage Song
Författare:
Victoria Schwab
Serie:
Monsters of Verity #1
Sidor:
450
Kate Harker and August Flynn are the heirs to a divided city—a city where the violence has begun to breed actual monsters. All Kate wants is to be as ruthless as her father, who lets the monsters roam free and makes the humans pay for his protection. All August wants is to be human, as good-hearted as his own father, to play a bigger role in protecting the innocent—but he's one of the monsters. One who can steal a soul with a simple strain of music. When the chance arises to keep an eye on Kate, who's just been kicked out of her sixth boarding school and returned home, August jumps at it. But Kate discovers August's secret, and after a failed assassination attempt the pair must flee for their lives.
Victoria Schwab är en av mina absoluta favoritförfattare, så givetvis har jag längtat efter hennes nya bok, This Savage Song. Mina förväntningar var väldigt höga, och Schwab gjorde mig definitivt inte besviken.

Till och börja med så måste jag säga att jag älskar att författaren citerar en av sina egna karaktärer från en annan bok i början av boken, och jag älskar att idéen till This Savage Song kom från just Victor Vale (Vicious). Handlingen här är full av monster, spänning och blod. Den griper tag i mig redan från början, och jag älskade varenda sida. Det är mörkt, och obehagligt, och alldeles vansinningt bra. Dessutom är prosan så vacker och spot on. Jag har verkligen inte ett ont ord att säga om denna boken.

Av karaktärerna så älskar jag både Kate och August. Kanske mest Kate dock. Jag gillar hur de båda kommer så bra överrens, och deras relation var oerhört intressant. Ett stort plus dessutom för avsaknaden av romans, det behövs verkligen inte i sådan här bok och jag är tacksam att den inte fanns där. I övrigt så fann jag Ilsa att vara en makalöst spännande bi-karaktär, och som jag gärna hade velat se mer av.

Slutet var så bra, och så spännande. De sista sidorna gör att jag redan nu längtar halvt ihjäl mig efter uppföljaren. This Savage Song var lika magiskt bra som Schwabs tidigare böcker har varit, och jag älskar den mörka stämningen. Rekommenderas varmt.