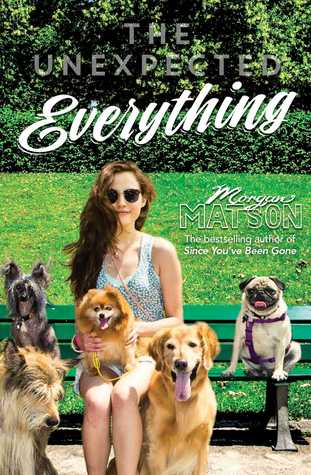 Titel:
The Unexpected Everything
Författare:
Morgan Matson
Serie:
-
Sidor:
517
Andie has a plan. And she always sticks to her plan.

Future? A top-tier medical school.
Dad? Avoid him as much as possible (which isn't that hard considering he's a Congressman and he's never around).
Friends? Palmer, Bri, and Toby—pretty much the most awesome people on the planet, who needs anyone else?
Relationships? No one's worth more than three weeks.

So it's no surprise that Andie's got her summer all planned out too.

Until a political scandal costs Andie her summer pre-med internship, and lands both she and Dad back in the same house together for the first time in years. Suddenly she's doing things that aren't Andie at all—working as a dog walker, doing an epic scavenger hunt with her dad, and maybe, just maybe, letting the super cute Clark get closer than she expected. Palmer, Bri, and Toby tell her to embrace all the chaos, but can she really let go of her control?
Jag har tidigare läst Since You've Been Gone av Morgan Matson, och gillade den mycket. Så självklart var jag intresserad av hennes nya bok, The Unexpected Everything, också. Och jag måste säga att jag tyckte till och med ännu mer om denna bok.

Handlingen var så mysig, och givetvis var det ett stort måste för mig att läsa när jag såg att den skulle handla om hundar. En väldigt charmig contemporary där Andies sommar helt plötsligt tar en oväntad vändning och hon får ett sommarjobb som en dog walker. Jag älskade vänskapen i den här boken. Romansen var perfekt, och den var bara så himla somrig och mysig. Jag hade gärna kunna vara utan allt drama i slutet dock, jag förstod givetvis att det skulle komma, men jag hade varit helt nöjd med att bara leva den här till synes perfekta sommaren för alltid.

Jag gillade alla karaktärerna. Andie var så härlig när hon började leva i nuet, och jag tyckte så mycket om Palmer, Bri och Toby. Och Tom förstås (vi vet ju hur han inte vill känna sig utanför). Clarke var sanslöst charmig, och jag älskade verkligen relationen mellan honom och Andie. Dessutom tyckte jag väldigt mycket om Andies pappa.

The Unexpected Everything var verkligen en perfekt sommarbok för mig (jag menar hundar och fantasyböcker), och jag tyckte så mycket om den. Rekommenderas gärna.