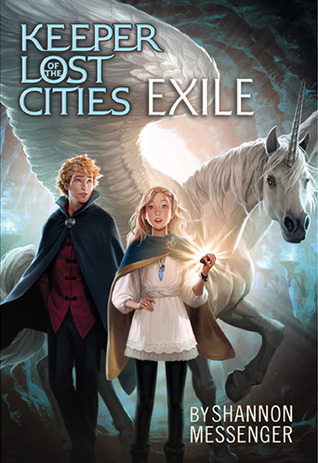 Titel:
Exile
Författare:
Shannon Messenger
Serie:
Keeper of the Lost Cities #2
Sidor:
368
Spoilervarning! Boken ingår i en serie, spoilers från tidigare böcker förekommer.
Sophie Foster thought she was safe. Settled into her home at Havenfield, surrounded by friends, and using her unique telepathic abilities to train Silveny--the first female alicorn ever seen in the Lost Cities--her life finally seems to be coming together.

But Sophie's kidnappers are still out there. And when Sophie discovers new messages and clues from the mysterious Black Swan group, she's forced to take a terrifying risk—one that puts everyone in incredible danger.

As long buried secrets rise to the surface, it's once again up to Sophie to uncover hidden memories—before someone close to her is lost forever.
Jag läste första boken i den här serien för några veckor sedan, och det förvånade mig hur mycket jag tyckte om den. Självklart beställde jag hem uppföljaren ganska så snarast, och Exile visade sig vara till och med ännu bättre, och jag absolut älskade den här boken.
Handlingen är så spännande, och mysig, och bara allmänt fantastiskt bra. Det här är ju en middlegrade serie och jag tycker att det är skönt att slippa en massa kärleksdravel, och att istället fokusera på mysterium och vänskap. Inte för att det inte finns potentiella kärleksintressen här, och det gör det, men det är väldigt trevligt att inte allt fokuserar på det. Sophies liv och eskapader är så fängslande, och världen är så intressant, och jag bara älskar allt med den här serien.
Sophie är en av de bästa karaktärer jag har haft nöjet att läsa om, och jag gillar henne så mycket. Hon är modig, smart, och rolig, och jag älskar alla hennes spännande krafter. Jag gillar Dex, Keefe (så mycket, han var helt fenomenal i den här boken), och Fitz (kanske inte så mycket i den här boken dock, han var lite för elak även om jag förstår varför) mycket, men jag är osäker på vem jag håller mest på. Även Grady, Edaline, och Alden
är härliga karaktärer, och jag tyckte dessutom mycket om Sandor och Silveny.
Exile är en makalöst bra bok, och en fantastisk fortsättning på serien. Jag ser så mycket fram emot den tredje boken som kommer nu i November (och sedan den fjärde boken efter det), och Keeper of the Lost Cities är en serie jag mer än gärna rekommenderar.
Favoritcitat:
"He was quiet for a few seconds, and Sophie thought he was going to ignore her. But then he leaned closer-close enough that she could feel his breath on her cheek. " I crack a lot of jokes, Sophie, but ....that's just because it's easier, you know? It's how I deal. But that doesn't mean I don't care. I do, a lot."
9 / 10