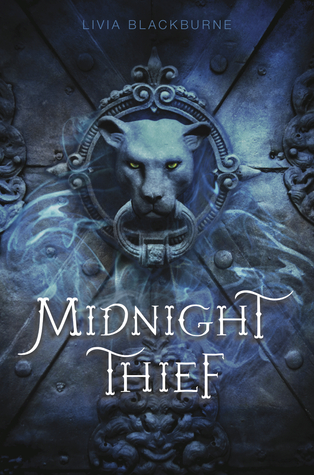 Titel:
Midnight Thief
Författare:
Livia Blackburne
Serie:
Midnight Thief #1
Sidor:
376
Growing up on Forge's streets has taught Kyra how to stretch a coin. And when that's not enough, her uncanny ability to scale walls and bypass guards helps her take what she needs.

But when the leader of the Assassins Guild offers Kyra a lucrative job, she hesitates. She knows how to get by on her own, and she's not sure she wants to play by his rules. But he's persistent—and darkly attractive—and Kyra can't quite resist his pull.

Tristam of Brancel is a young Palace knight on a mission. After his best friend is brutally murdered by Demon Riders, a clan of vicious warriors who ride bloodthirsty wildcats, Tristam vows to take them down. But as his investigation deepens, he finds his efforts thwarted by a talented thief, one who sneaks past Palace defenses with uncanny ease.

When a fateful raid throws Kyra and Tristam together, the two enemies realize that their best chance at survival—and vengeance—might be to join forces.
I Januari fick jag chansen att läsa en prequel novell, Poison Dance, till den här boken
och jag gillade den väldigt mycket. Midnight Thief blev efter det ett måste för mig att läsa, och jag har längtat efter dess release sedan dess. Den var dock inte riktigt lika bra som jag förväntat mig, men jag tyckte ändå mycket om den.
Handlingen tog inte riktigt den vändning jag trott, och jag hade helt klart hoppats på mer Assassin grejer. Världsuppbyggnaden var både intressant, men samtidigt lite luddig, och jag hade gärna velat veta mer om själva världen. Men Midnight Thief var också ganska spännande, och ett stort nöje för stunden. Sista 100 + sidorna var helt klart det bästa med boken. Den var, som sagt, inte riktigt vad jag förväntat mig, men ändå en bra bok.
Karaktärerna var lite sisådär. Kyra var ganska fängslande, men samtidigt svår att relatera till. Hon gjorde en del dumma val, och även om jag gillade henne så brydde jag mig inte särskilt om henne. Tristam var mest tråkig och jag har inga större åsikter om honom. Den mest intressanta karaktären var James, även om jag inte tycker särskilt mycket om honom. Ett stort plus att det inte var talan om någon insta-love i den här boken och kärleken tog bara upp en minimal del, något jag verkligen uppskattade.
Så till några spoilertankar, markera för att läsa;
-

Det hade varit så mycket bättre om Kyra hade velat vara en assassin, och man fokuserat mer på det. Nu kändes det bara dumt att hon joinade The Assassins Guild, men inte vill döda någon. Seriöst, vad tror hon med det namnet egentligen?
-

Jag gillade det där med Demon Riders mycket, och det var ganska lätt att lista ut vart Kyra kom ifrån. Hoppas på mer shapeshifting och bad ass katter i nästa bok.
-

Lite tråkigt att James, som jag gillade SÅ mycket i Poison Dance, har blivit som han var. Jag förstår varför, men han var ändå som en helt annan person och det gillade jag inte.
spoilers slut.
Midnight Thief var en bra bok, men långt ifrån mina förväntningar. I det stora hela så gillade jag den dock, och jag ser mycket fram emot nästa bok.