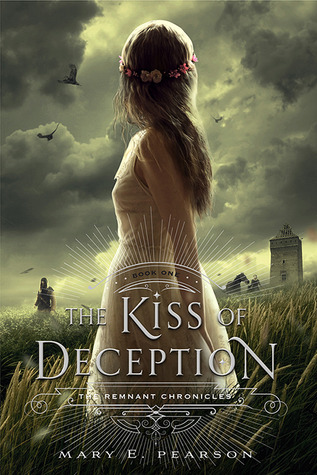 Titel:
The Kiss of Deception
Författare:
Mary E. Pearson
Serie:
The Remnant Chronicles #1
Sidor:
486
In a society steeped in tradition, Princess Lia's life follows a preordained course. As First Daughter, she is expected to have the revered gift of sight—but she doesn't—and she knows her parents are perpetrating a sham when they arrange her marriage to secure an alliance with a neighboring kingdom—to a prince she has never met.

On the morning of her wedding, Lia flees to a distant village. She settles into a new life, hopeful when two mysterious and handsome strangers arrive—and unaware that one is the jilted prince and the other an assassin sent to kill her. Deception abounds, and Lia finds herself on the brink of unlocking perilous secrets—even as she finds herself falling in love.
Det här var en av årets allra mest efterlängtade böcker för mig, och mina förväntningar var verkligen skyhöga. Jag var rädd
att den skulle göra mig besviken, men nu i efterhand vet jag att jag inte hade behövt oroa mig. The Kiss of Deception var allt jag hade önskat mig, och jag absolut älskade den här boken.
Handlingen var alldeles fantastiskt bra och jag riktigt njöt från början till slutet. Den var både spännande och romantisk, och även om den var ganska så långsam emellanåt, så var det inget som störde mig. Efter cirka 300 sidor tog boken en annan vändning än vad jag först hade trott, men det var både riktigt bra gjort, samt fick mig att älska den ännu mer. Världsuppbyggnaden var dessutom fenomenal, och jag hoppas på mer magi i nästa bok.
Lia är en sjukt badass karaktär, och jag älskade henne från första mötet. Hon är modig, stark, smart, och vill bara få göra sina egna val, och leva sitt eget liv. Jag tyckte även mycket om hennes vän Pauline, och jag vill berömma Pearson för att hon skapar så starka kvinnliga karaktärer.
Det som gjorde mig mest nervös innan jag började läsa var antydan till kärlekstriangeln i beskrivningen. Jag tror inte det är särskilt många av oss läsare som tycker om sådana, men i det här fallet tycker jag att den var snyggt gjord. Lia är från början intresserad utav båda två, men hon beslutar sig ganska snabbt (efter att ha lärt känna dem bättre) för en person, och mer eller mindre håller sig till honom. Jag höll dessutom på att bli tokig eftersom man i början inte riktigt vet vem som är prinsen och vem som är lönnmördaren (även om det är ganska lätt att lista ut, så var jag ändå orolig att jag skulle ha fel). Vad jag kan säga är dock att Lia valde min favorit, och det är jag så jäkla nöjd över.
Slutet var väldigt spännande, och jag hade nog halvdött om det slutat på ett annat sätt. The Kiss of Deception var en makalöst bra bok, och jag är så glad att den levde upp till alla mina förväntningar. Nu kan jag inte göra annat än att börja räkna ner dagarna tills nästa bok kommer ut, och att rekommendera ALLA att läsa The Kiss of Deception.
Favoritcitat:
"We all have our different skills. You're patient to a fault, which sometimes doesn't work to your advantage. I, on the other hand, have the patience of a wet cat. Only on rare occasions does that come in handy."
"A six-inch blade. I smiled. Did he buy it? It was actually just shy of four—but very nicely weighted—and as Aunt Bernice noted, a little exaggeration was always expected when describing weapons, victories, and body parts."