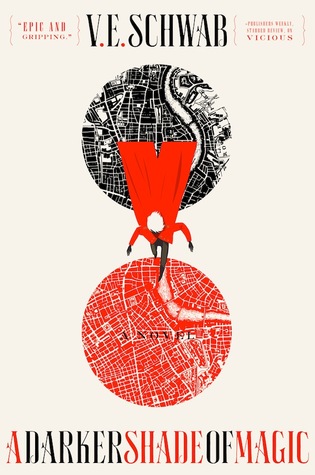 Titel:
A Darker Shade of Magic
Författare:
V.E. Schwab
Serie:
A Darker Shade of Magic #1
Sidor:
398
Kell is one of the last Travelers—rare magicians who choose a parallel universe to visit.

Grey London is dirty, boring, lacks magic, ruled by mad King George. Red London is where life and magic are revered, and the Maresh Dynasty presides over a flourishing empire. White London is ruled by whoever has murdered their way to the throne. People fight to control magic, and the magic fights back, draining the city to its very bones. Once there was Black London - but no one speaks of that now.

Officially, Kell is the Red Traveler, personal ambassador and adopted Prince of Red London, carrying the monthly correspondences between royals of each London. Unofficially, Kell smuggles for those willing to pay for even a glimpse of a world they'll never see. This dangerous hobby sets him up for accidental treason. Fleeing into Grey London, Kell runs afoul of Delilah Bard, a cut-purse with lofty aspirations. She robs him, saves him from a dangerous enemy, then forces him to another world for her 'proper adventure'.

But perilous magic is afoot, and treachery lurks at every turn. To save all of the worlds, Kell and Lila will first need to stay alive — trickier than they hoped.
Ingen kan väl ha missat hur mycket jag avgudar V.E. Schwabs Vicious vid det här laget, och att säga att jag längtat halvt ihjäl mig efter hennes nya bok är något av en underdrift. A Darker Shade of Magic var en av mina mest efterlängtade boksläpp det här året, och om den levde upp till mina förväntningar? Absolut!
Början av boken var aningen för långsam för min del, men samtidigt så är jag djupt imponerad av världsuppbyggnaden och förstår att den behövde ta sin tid. Jag njöt av läsningen, även om jag inte var helt fast. Men någonstans där Kell möter Lila så föll jag för boken, och framåt slutet så var jag så inne i berättelsen att jag knappt kunde lägga ifrån mig den. Och ärligt talat, vad finns det inte att älska i en bok som är full av magi, olika världar med åtskilliga London
s, tjuvar, smuggling, prinsar, och en kvinnlig karaktär vars högsta önskan är att bli en pirat?
Karaktärerna är fantastiska, och jag älskar hur Schwab alltid lyckas skapa sådan komplexa och levande karaktärer. Jag älskade Kell, han var både charmig och intressant, och jag gillar att det fanns så mycket mer hos honom. Men min favorit var ändå Lila, och hon var helt enastående. Smart, orädd, kapabel, och bara en aning galen. En av de bästa karaktärerna jag läst om på länge och så oerhört fascinerande. Dessutom var jag väldigt förtjust i Rhy, och önskar att vi fått lära känna honom bättre. Förhoppningsvis i nästa bok?
Trots en långsammare början så visade sig A Darker Shade of Magic var en alldeles makalöst bra bok. Språket är fantastiskt, karaktärerna är förtjusande originella och handlingen innehöll att jag önskade mig. Den här boken får en given plats på min favorithylla, och jag ser så fram emot fortsättningen som kommer nästa år. Rekommenderas varmt.
Favoritcitat:
"The bodies in my floor all trusted someone. Now I walk on them to tea."
"Aren't you afraid of dying?" he asked Lila now.
She looked at him as if it were a strange question. And then she shook her head. "Death comes for everyone," she said simply. "I'm not afraid of dying. But I am afraid of dying here." She swept her hand over the room, the tavern, the city. "I'd rather die on an adventure than live standing still."