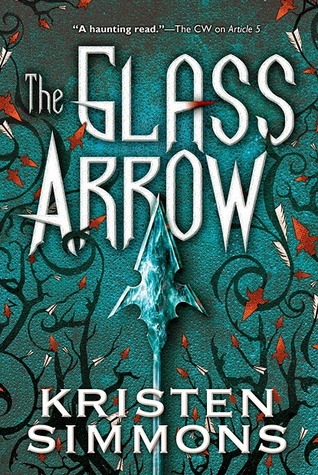 Titel:
The Glass Arrow
Författare:
Kristen Simmons
Serie:
-
Sidor:
331
In a world where females are scarce and are hunted, then bought and sold at market for their breeding rights, 15-year old Aya has learned how to hide. With a ragtag bunch of other women and girls, she has successfully avoided capture and eked out a nomadic but free existence in the mountains. But when Aya's luck runs out and she's caught by a group of businessmen on a hunting expedition, fighting to survive takes on a whole new meaning.
Kristen Simmons har tidigare skrivit Article 5 trilogin, vilken som många av er redan vet är en av mina absoluta favoritserier. Hon har en given plats på min auto-buy lista, och jag har längtat efter att få läsa The Glass Arrow sedan jag först hörde talas om den. Och om den levde upp till förväntningarna? Utan tvekan!
Jag måste erkänna att jag var lite tveksam till en ensamstående dystopisk bok. Ofta tycker jag att det behövs mer än bara en bok för att bygga upp och förklara världen, och det gjorde mig väldigt fundersam över hur allt skulle klaras upp på bara lite mer än 300 sidor. Men jag hade inte behövt oroa mig, och med The Glass Arrow så visar Kristen Simmons återigen att hon är en mästare på att skapa spännande böcker i fruktansvärda framtidsvärldar. I The Glass Arrow så har kvinnor inga rättigheter alls, och de jagas och säljs för att avlas på. Det hela är oerhört obehagligt, men samtidigt gjorde det boken omöjlig att lägga ifrån sig och jag absolut älskade att få följa Ayas historia. Vad jag gillar mest dock är att, markera för spoilers --> den här boken handlar inte om att ändra på samhället, som så många andra dystopier. Och även fast att jag önskar att något kunnat göras åt det, för att jag skulle hellre dö än att leva i en sådan värld, så är jag djupt imponerad av att få se Ayas kamp för hennes frihet och hennes familj och att lämna det hela när hennes historia är över, spoiler slut.
Av karaktärerna så älskade jag Aya. Hon var så stark och modig. Och även om hon också var för impulsiv och ibland gjorde dumma val, så var det omöjligt att inte tycka om henne. Kiran var en helt okej karaktär, men samtidigt så var jag inte överförtjust i honom. Jag gillar deras relation och så, men själva Kiran gav mig inte särskilt mycket. Däremot så älskade jag Brax. Och Daphne påminde mig mycket om Becca från Article 5 trilogin, så självklart tyckte jag bra om henne.
The Glass Arrow är en fantastiskt bra bok. Den håller spänningen uppe även när tempot är långsamt, och jag älskade huvudkaraktären. Kristen Simmons bevisar återigen varför jag räknar henne som en av mina favoritförfattare, och jag rekommenderar mer än gärna den här boken.
Favoritcitat:
"My ma taught me one thing from the beginning: My body is mine. My own. No one else's. Just because somebody thinks they have rights to it, doesn't make it true. I thought I understood that before, but here, in this place, it's become more clear than ever how right she was. My flesh and blood–it's the only thing I own, and I'll defend it until I can't fight anymore."