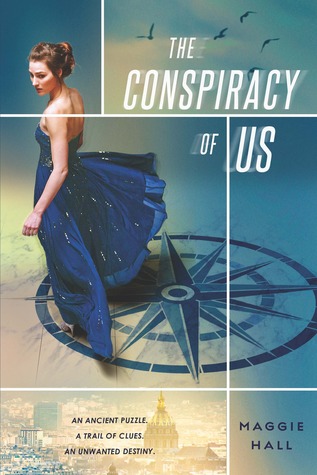 Titel:
The Conspiracy of Us
Författare:
Maggie Hall
Serie:
The Conspiracy of Us #1
Sidor:
324
Avery West's newfound family can shut down Prada when they want to shop in peace, and can just as easily order a bombing when they want to start a war. Part of a powerful and dangerous secret society called the Circle, they believe Avery is the key to an ancient prophecy. Some want to use her as a pawn. Some want her dead.

To unravel the mystery putting her life in danger, Avery must follow a trail of clues from the monuments of Paris to the back alleys of Istanbul with two boys who work for the Circle—beautiful, volatile Stellan and mysterious, magnetic Jack. But as the clues expose a stunning conspiracy that might plunge the world into World War 3, she discovers that both boys are hiding secrets of their own. Now she will have to choose not only between freedom and family--but between the boy who might help her save the world, and the one she's falling in love with.
Den här boken har jag varit intresserad av sedan jag först hörde talas om den, och just därför så dröjde det inte särskilt länge innan jag beställde hem den. Jag är dock aningen osäker på vad jag faktiskt tyckte om boken, och hoppas att den här recensionen ska hjälpa mig att reda ut tankarna lite.
De första 100+ sidorna av den här boken och jag kom inte alls överrens. Huvudkaraktären var så fruktansvärt idiotisk och jag kunde inte släppa hennes beteende, trots att handlingen intresserade mig.
Och det var bara tack vare handlingen som jag fortsatte att läsa. Men i samband med att Avery förstod hur dum hon hade varit, och med den thriller-aktiga handlingen fylld av spänning och mysterium, så blev jag väldigt investerad och framåt slutet så absolut älskade jag boken. Jag vet dock inte om den faktiskt blev bättre, eller om det bara var jag som började ha överseende med allt. Men hur som helst så känner jag nu att ja, The Conspiracy of Us var faktiskt riktigt bra och jag är glad över att ha läst den.
Först och främst så varning för mindre spoilers från och med nu! Så Avery i början. Alltså jag skämtar inte ens. Det första hon gör är att frivilligt följa med en kille som hon nyss träffat och som hotade henne med en kniv, halvvägs runt jorden. Hon vägrar tro på hemliga sällskap fast hon i princip får det bevisat för sig, och hon blir attackerad på Prada men tror först att personen är där för att råna stället. Så ni förstår om hon frustrerade mig oerhört. Sist jag träffade en karaktär jag fann så oerhört blåst var när jag läste Hush, Hush av Becca Fitzpatrick i början av 2012. Jag var så väldigt nära att lägga ifrån mig boken, men till sist så blev hon faktiskt bättre. Och framåt slutet så fann jag Avery att vara en helt okej karaktär. Av killarna så var Jack okej men tråkig, och Stellan intressant men psykopatisk. Det var dessutom lite för mycket av insta-love för min del, och jag är inte helt förtjust i den kommande kärlektriangeln. Men som sagt, handlingen är ju spännande..
Jag trodde aldrig att jag skulle gilla The Conspiracy of Us så mycket som jag gjorde i slutet, och jag antar att den inte låter särskilt lockande när man läser den här recensionen. Men någonstans så var det något jag blev väldigt förtjust i, och jag längtar faktiskt efter fortsättningen. Jag rekommenderar den gärna, men varnar er för att huvudkaraktären kan vara riktigt påfrestande. Lite läs på egen risk, så där.