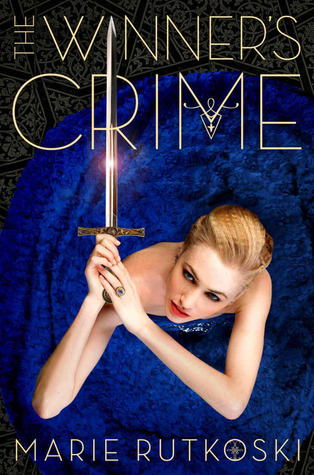 Titel:
The Winner's Crime
Författare:
Marie Rutkoski
Serie:
The Winner's Trilogy #2
Sidor:
402
Spoilervarning! Boken ingår i en serie, spoilers från tidigare böcker förekommer.
T
he engagement of Lady Kestrel to Valoria's crown prince means one celebration after another. But to Kestrel it means living in a cage of her own making. As the wedding approaches, she aches to tell Arin the truth about her engagement…if she could only trust him. Yet can she even trust herself? For—unknown to Arin—Kestrel is becoming a skilled practitioner of deceit: an anonymous spy passing information to Herran, and close to uncovering a shocking secret.

As Arin enlists dangerous allies in the struggle to keep his country's freedom, he can't fight the suspicion that Kestrel knows more than she shows. In the end, it might not be a dagger in the dark that cuts him open, but the truth. And when that happens, Kestrel and Arin learn just how much their crimes will cost them.
Första boken i den här serien, The Winner's Curse, var en av mina mest efterlängtade böcker förra året, och jag var så besviken när den inte alls levde upp till mina förväntningar. En bra bok, men inte mer, och ärligt talat så hade jag inte planerat att läsa uppföljaren. Men sedan lyckades all hype att lura in mig igen och jag kände mig tvungen att beställa hem den. Och tur var väl det, för den här boken var alldeles fantastiskt bra!

Jag hade inga särskilda förväntningar när jag började läsa The Winner's Crime, men redan från första kapitlet var jag fast i boken, och handlingen var bara så medryckande. Jag har inte så mycket att säga om handlingen, i risk för spoilers, men jag älskar att den är så himla smart. Dessutom är världsuppbyggnaden suverän, och språket både levande och vackert. Jag har väldigt svårt att förstå varför jag inte var alltför förtjust i den första boken nu när jag läste den här, för jag älskade verkligen allt med den.

När det gäller karaktärerna så är jag lite halvt förälskad i Kestrel. Hon är bara så intressant. Jag älskar hennes intelligens och strategiska tänkande, och hon är helt klart min favorit i serien. Arin däremot var den största anledningen till varför jag inte föll för The Winner's Curse och jag var väldigt tveksam när jag väl påbörjade den här boken. Men någonstans så upptäckte jag att andledningen till varför jag har så svårt för honom, är att hans personlighet mestadels består av allt jag inte gillar hos mig själv. Han är arrogant, impulsiv, har lätt för att bli arg och har svårt för att hoppas, alla vilka är karaktärsdrag jag har svårt för. Men trots det så gillade jag Arin betydligt bättre här och jag är dessutom väldigt förtjust i romansen mellan honom och Kestrel, trots att det samtidigt driver mig till vansinne hur ingen av dem litar på den andra..
The Winner's Crime slog mig helt klart med häpnad, och det där slutet är en av de bästa och värsta cliffhangers jag någonsin varit med om. Att säga att jag längtar efter den avslutande boken i serien är givet, och jag är så glad att jag valde att fortsätta med serien eftersom jag absolut älskade den här boken. Rekommenderas varmt.