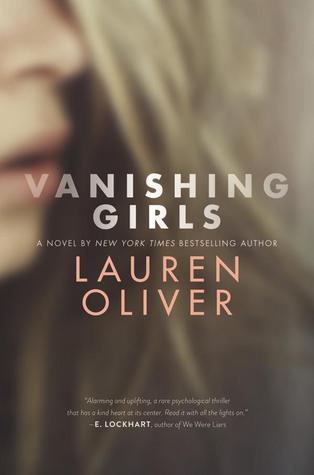 Titel:
Vanishing Girls
Författare:
Lauren Oliver
Serie:
-
Sidor:
357
Dara and Nick used to be inseparable, but that was before the accident that left Dara's beautiful face scarred and the two sisters totally estranged. When Dara vanishes on her birthday, Nick thinks Dara is just playing around. But another girl, nine-year-old Madeline Snow, has vanished, too, and Nick becomes increasingly convinced that the two disappearances are linked. Now Nick has to find her sister, before it's too late.
Jag räknar Lauren Oliver som en av mina absoluta favoritförfattare och hennes Delirium serie är i toppen bland mina favoriter. Men efter att ha läst Panic förra året, och blivit grymt besviken på den, så har jag varit så orolig över att jag inte skulle tycka om Vanishing Girls heller. Som tur var dock så föll jag direkt för den här boken, och den visade sig vara till och med bättre än vad jag först hade hoppats på.

Ärligt talat så vet jag inte riktigt hur jag ska recensera den här boken. Handlingen var väldigt hjärtskärande, och eftersom jag älskar mina systrar över allt annat så krossade det mitt hjärta att se hur Nick och Dara gled ifrån varandra. Det låg också en spänning över boken och när jag började närma mig hlavvägs så var jag så fast att jag omöjligt kunde lägga ifrån mig den. Ju närmare slutet jag kom, desto mer febrilt läste jag, trots att jag samtidigt var rädd för att få veta hur allt låg till. Och slutet, slutet var helt mind blowing. Men mer än så vill jag dock inte avslöja.

Språket är dessutom helt fantastiskt och Lauren Oliver är verkligen en mästare på att uttrycka sig. Jag gillar även att boken innehåller saker som foton, bloggartiklar och dagboksanteckningar, vilket höjde läsupplevelsen till en helt annan nivå.

Karaktärerna var dessutom så levande, och jag kunde inte låta bli att älska dem. Den trasiga relationen mellan Nick och Dara var så hemsk, och jag satt bara och hoppades på att allt skulle ordna sig för dem. Jag tyckte även väldigt mycket om Parker och hans relation till båda systrarna. Det var så svårt att se alla tillbakablickar och minnen dock, och den här boken krossade mitt hjärta ett antal gånger.

Vanishing Girls var verkligen en makalöst bra bok, och Lauren Oliver bevisar återigen varför hon är en av mina favoriter. Jag vet egentligen inte vad mer jag kan säga om den här boken, men jag rekommenderar absolut alla att läsa den. Så himla bra!
Favoritcitat:

"Sometimes people stop loving you. And that's the kind of darkness that never gets fixed, no matter how many moons rise again, filling the sky with a weak approximation of light."
"That's what life is, pretty much: full of holes and tangles and ways to get stuck. Uncomfortable and itchy. A present you never asked for, never wanted, never
chose
. A present you're supposed to be excited to wear, day after day, even when you'd rather stay in bed and do nothing."