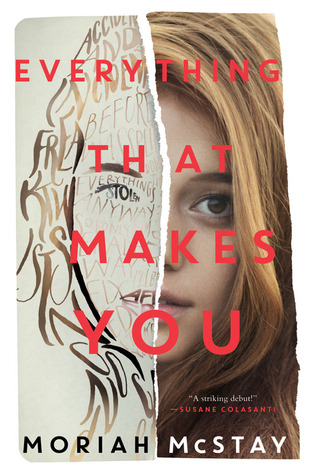 Titel:
Everything That Makes You
Författare:
Moriah McStay
Serie:
-
Sidor:
344
One girl. Two stories. Meet Fiona Doyle. The thick ridges of scar tissue on her face are from an accident twelve years ago. Fiona has notebooks full of songs she's written about her frustrations, her dreams, and about her massive crush on beautiful uber-jock Trent McKinnon. If she can't even find the courage to look Trent straight in his beautiful blue eyes, she sure isn't brave enough to play or sing any of her songs in public. But something's changing in Fiona. She can't be defined by her scars anymore.

And what if there hadn't been an accident? Meet Fi Doyle. Fi is the top-rated female high school lacrosse player in the state, heading straight to Northwestern on a full ride. She's got more important things to deal with than her best friend Trent McKinnon, who's been different ever since the kiss. When her luck goes south, even lacrosse can't define her anymore. When you've always been the best at something, one dumb move can screw everything up. Can Fi fight back?
Åh, den här boken. Jag hade SÅ höga förväntningar på den och den levde inte upp till en enda. Den var en av mina mest efterlängtade böcker för i år, men tyvärr var den en oerhörd besvikelse.
Jag tänkte att det här med två alternativa liv borde verkligen vara något för mig. Allra helst eftersom jag avgudar Pivot Point av Kasie West, som nästan handlar lite om samma sak (fast huvudpersonen är densamma). Och visst kan jag erkänna att jag fann handlingen helt okej, även om jag samtidigt inte riktigt förstår poängen i den hela. Oftast så brukar det ju sluta med att karaktären lär sig något och utvecklas som person under resans gång, men jag fann att både Fi och Fionas liv hade kunnat vara så mycket lättare om de bara slutade gnälla och tyckt synd om sig själv. Det finns liksom ingen djupare mening i det hela eftersom de båda idioterna mestadels skapade sina problem själva.
Och få mig inte ens att börja med karaktärerna för att jag har aldrig varit med om värre. Alltså de är så fruktansvärda båda två. Fiona och Fi är så gnälliga, själviska och bitchiga att jag inte kan förstå att familj och vänner orkar med dem. Jag var så frustrerad HELA tiden och nu i efterhand så får jag berömma mig själv för att jag ens orkade läsa ut boken.
Så till några spoilertankar, vilka måste markeras för att läsas;
-

Så först och främst
så tycker jag inte alls att Fionas liv, med ärren, verkade vara särskilt svårt. Ingen retar henne, folk säger upprepade gånger att man inte ens tänker på att hon har ärr och hon får ganska snart en pojkvän. Det mesta verkar sitta i hennes eget huvud, och om hon hade slutat tyckt synd om sig själv så tror jag att hennes liv skulle vara helt okej. Att hon dessutom får ett hudtransplantat som tar bort alla ärr gör ju att jag har svårt att förstå varför det måste vara med i överhuvudtaget?
-

Och hur kan Fi var så oerhört ignorant att hon inte förstår att hennes egen pojkvän är allvarligt sjuk? Familj som har fobi för bakterier, skämtar du eller? Jag gillar inte heller att man missade när Marcus dog och jag tycker att det var ett misstag att låta boken hålla på under tre års tid.
spoilers slut.
Det var alltså inte mycket jag tyckte om med Everything That Makes You, men eftersom jag gillar själva idén och för att handlingen var hyfsad så landar betyget på ett svagt okej. Trots att karaktärerna fick mig att önska att jag kunde kliva in i deras världar enbart för att ge dem varsin smäll på käften...