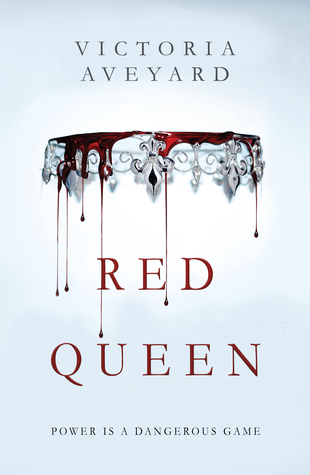 Titel:
Red Queen
Författare:
Victoria Aveyard
Serie:
Red Queen #1
Sidor:
383
The poverty stricken Reds are commoners, living under the rule of the Silvers, elite warriors with god-like powers.

To Mare Barrow, a 17-year-old Red girl from The Stilts, it looks like nothing will ever change.

Mare finds herself working in the Silver Palace, at the center of
those she hates the most. She quickly discovers that, despite her red blood, she possesses a deadly power of her own. One that threatens to destroy Silver control.

But power is a dangerous game. And in this world divided by blood, who will win?
Red Queen har varit en väldigt hypad bok, men personligen så var jag inte ett dugg sugen på att läsa den när jag först hörde talas om den. Jag vet inte riktigt varför dock, men det dröjde ett bra tag för mig att bli intresserad. Till sist så vann dock nyfikenheten och jag är väldigt glad att jag gav den en chans eftersom det här var en riktigt bra bok.
Handlingen är väldigt spännande, åtminstonde efter man kommer in i boken. Början var intressant, men samtidigt aningen seg och det tog ett tag för mig att bli investerad i berättelsen. Men efter det blev den dock oerhört bra och jag gillade verkligen boken. Det bästa var alla intriger och alla läckra superkrafter, båda saker som jag absolut avgudar. Slutet var dessutom fantastiskt spännande, men samtidigt så hade jag listat ut den stora twisten i förväg och det gjorde mig aningen besviken. Jag är dock sjukt taggad på att få läsa uppföljaren och jag har riktigt höga förväntningar på den.
Jag både gillade och ogillade karaktärerna. Mare var riktigt härlig med sin cynism och styrka. Men samtidigt kunde hon bli lite för gnällig och lite för bitter, och det irriterade mig aningen. Jag var inte särskilt förtjust i kärlekstriangeln/fyrkanten, trots att jag gillade både Cal och Maven (men inte Kilorn, som jag inte riktigt vet om han kan räknas som ett kärleksintresse). Maven var min favorit dock, markera för spoilers -->

åtminstonde fram till slutet

, spoilers slut.
Red Queen var en riktigt bra bok, men ett fåtal småsaker hindrade den från att nå en favoritstatus. Jag tyckte dock riktigt mycket om den, och jag ser som sagt väldigt mycket fram emot fortsättningen. Rekommenderas.
Favoritcitat:
"The truth is what I make it. I could set this world on fire and call it rain."