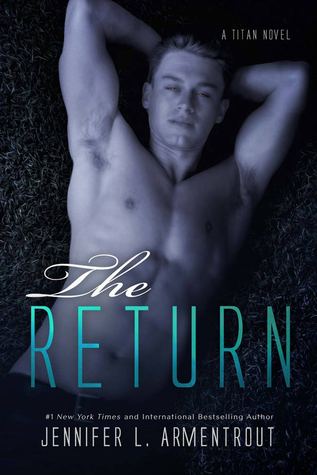 Titel:
The Return
Författare:
Jennifer L. Armentrout
Serie:
Titan #1
Sidor:
335
Spoilervarning! Kan innehålla mindre spoilers för Covenant serien.
It's been a year since Seth made the deal with the gods that pledged his life to them. And so far, the jobs they've given him have been violent and bloody–which is kind of all right with him. But now Apollo has something else in mind for Seth. He's got to play protector while keeping his hands and fingers off, and for someone who really has a problem with restraint, this new assignment might be the most challenging yet.

Josie has no idea what this crazy hot guy's deal might be, but it's a good bet that his arrival means the new life she started after leaving home is about to be thrown into an Olympian-sized blender turned up to puree. Either Josie is going insane or a nightmare straight out of ancient myth is gunning for her.

But it might be the unlikely attraction simmering between her and the golden-eyed, secret-keeping Seth that may prove to be the most dangerous thing of all.

Because history has once again been flipped to repeat.
Jag älskar Jennifer L. Armentrouts Covenant serie, och Seth är en av mina absoluta favoritkaraktärer. Så självklart blev jag helt överlycklig när nyheten om hans egna serie kom, och jag har räknat ner dagarna efter att få läsa den här boken. Men tyvärr så känner jag mig nu i efterhand faktiskt väldigt besviken, och jag hade hoppats på något mer från den här boken.
The Return är en New Adult bok, till skillnad från Covenant serien som var YA, och det märks. Personligen så har jag inget alls emot en sexscen här eller där, men i den här boken blir det lite för mycket. Om det hade varit en vanlig romance, eller till och med erotica, så okej. Men när det finns så mycket potential i handlingen, jag menar grekisk mytologi, demigudar och krig mot titanerna, och så sätter man allt det i skymundan för sexigheter, ja då blir jag besviken. Nästan ingenting alls händer, föutom en massa kemi mellan huvudkaraktärerna, och när jag väl kommer till slutet så har jag redan hunnit att bli uttråkad. Och ärligt talat så är det faktiskt väldigt illa när inte ens Seth kan rädda en bok i mina ögon.
Så till karaktärerna. Seth är som sagt en stor favorit bland de manliga karaktärerna för mig, och även här är det inget undantag. Han är en väldigt komplex karaktär och jag älskar hans attityd. Dock tycker jag nog att han passade bättre tillsammans med Alex, för Josie är en väldigt tråkig karaktär. Det var absolut inget fel på henne, men hon var bara så..blek. Och personligethetslös. Jag har inget emot henne, men jag bryr mig inte heller om vad som händer med henne, tyvärr. I övrigt så älskade jag att få träffa de gamla karaktärerna, men jag önskar självklart att Alex och Aiden får ett gästspel i nästa bok.
The Return var helt klart en besvikelse, även om jag för det mesta gillade den. För lite handling för min smak, och hade det inte varit just Seth som huvudkaraktär så hade jag nog sänkt betyget ännu mer. Jag tänker givetvis läsa nästa bok när den kommer, men nu är förväntningarna tyvärr betydligt lägre.