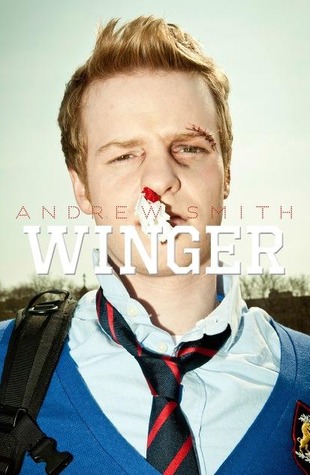 Titel:
Winger
Författare:
Andrew Smith
Serie:
Winger #1
Sidor:
439
Ryan Dean West is a fourteen-year-old junior at a boarding school for rich kids in the Pacific Northwest. He's living in Opportunity Hall, the dorm for troublemakers, and rooming with the biggest bully on the rugby team. And he's madly in love with his best friend Annie, who thinks of him as a little boy.

With the help of his sense of humor, rugby buddies, and his penchant for doodling comics, Ryan Dean manages to survive life's complications and even find some happiness along the way. But when the unthinkable happens, he has to figure out how to hold on to what's important, even when it feels like everything has fallen apart.
Jag har bara hört bra saker om Winger, men trots det är den en sån där bok som fått legat oläst i bokhyllan på tok för länge. Och självklart så ångrar jag det nu när jag har läst den för wow, vilken bok.
Handlingen var bara så bra och jag fastnade genast för boken. Det är en oerhört charmig historia om Ryan Dean, den första kärleken, rugby och vänskap, och jag var väldigt förtjust i det hela. Dessutom älskade jag de små serieteckningarna som Ryan Dean ritade. Winger var också väldigt rolig, och den fick mig att skratta så himla mycket. Och slutet fick mig att gråta ännu mer. Det var som en käftsmäll som krossade min själ, och jag är nog fortfarande i chock över det hela. Bara slutet gjorde boken mer än läsvärd.
Karaktärerna var fenomenala. Jag älskade Ryan Dean. Han var så charmig, rolig och tuff. Jag gillade även Annie, Seanie och Chas mycket. Och jag absolut avgudade Joey. Han kan mycket väl vara världens finaste person.
Winger var en mycket positiv överraskning och jag är så glad över att det kommer en till bok om Ryan Dean senare i år. En helt jävla fantastisk bok, som jag rekommenderar absolut alla att läsa.
Favoritcitat:
"And then it's always that one word that makes you so different and puts you outside the overlap of everyone else; and that word is so fucking big and loud, it's the only thing anyone ever hears when your name is spoken.

And whenever that happens to us, all the other words that make us the same disappear in it's shadow."