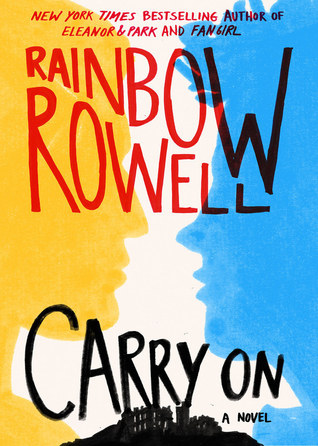 Titel:
Carry On
Författare:
Rainbow Rowell
Serie:
-
Sidor:
522
Rainbow Rowell continues to break boundaries with Carry On, an epic fantasy following the triumphs and heartaches of Simon and Baz from her beloved bestseller Fangirl.

Simon Snow just wants to relax and savor his last year at the Watford School of Magicks, but no one will let him. His girlfriend broke up with him, his best friend is a pest, and his mentor keeps trying to hide him away in the mountains where maybe he'll be safe. Simon can't even enjoy the fact that his roommate and longtime nemesis is missing, because he can't stop worrying about the evil git. Plus there are ghosts. And vampires. And actual evil things trying to shut Simon down. When you're the most powerful magician the world has ever known, you never get to relax and savor anything.
Jag läste Fangirl under hösten 2013 och den blev en av mina absoluta favoritböcker. Jag älskade Cath & Levi, jag älskade Caths fanfiction, och jag avgudade Simon och Baz. När jag väl lade ifrån mig boken så var jag väldigt nöjd över hur Caths historia slutade, men jag kunde ändå inte låta bli att fundera på hur det skulle gå för Simon (& Baz). När nyheten om att vi skulle få en bok med de båda i så tror jag att halva bokvärlden gick i taket. Det var en av de bästa boknyheter någonsin, och längtan efter Carry On har varit så stor. Om den levde upp till förväntningarna då? Läs vidare så får ni se.

Handlingen var bara så bra, och Carry On utspelar sig under Simons sista år på Watford. Så det här är liksom sluthistorian. Det var spännande, det var magiskt, det fanns spöken, och kärlek och kyssar. Det var allt jag hade kunnat önska mig av den här boken och jag var väldigt förtjust i hela alltet. Dessutom gillade jag att man fick följa flera olika karaktärers perspektiv.

Av karaktärerna så älskade jag Simon och Baz. Både tillsammans och var för sig. Simons besatthet av Baz var så himla rolig, och jag älskade att det till sist var han, spoilers -->

som tog intiativet till en kyss. Jag gillade dessutom att Baz hade varit medvetet förälskad i Simon under en längre tid. Det gjorde liksom det hela ännu bättre

, spoilers slut. Jag tyckte dessutom mycket om Penelope, men var lite mindre förtjust i Agatha.

Slutet var väldigt spännande, och även fast jag redan listat ut vissa saker så fanns det också saker som överraskade mig. Carry On var verkligen en underbart magisk bok, och jag rekommenderar den mer än gärna. Allra helst till er som också läst, och älskat, Fangirl. För det här har liksom varit värt att vänta på, jag lovar.
Favoritcitat:
"Sometimes when I'm walking through the dining hall, just saying hello to people, she'll drag me by my sleeve to hurry me up.
"You have too many friends," she'll say.
"I'm pretty sure that's not possible. And, anyway, I wouldn't call them all 'friends.'"
"There are only so many hours in the day, Simon. Two, three people—that's all any of us have time for."
"There are more people than that in your immediate family, Penny."
"I know. It's a struggle."