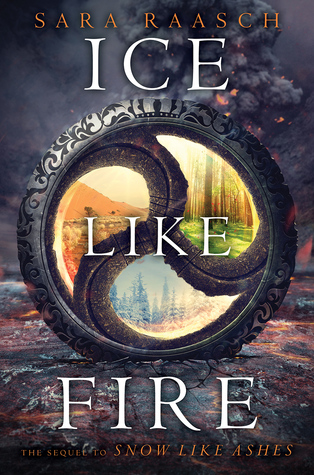 Titel:
Ice Like Fire
Författare:
Sara Raasch
Serie:
Snow Like Ashes #2
Sidor:
478
Spoilervarning! Boken ingår i en serie, spoilers från tidigare böcker förekommer.
It's been three months since the Winterians were freed and Spring's king, Angra, disappeared—thanks largely to the help of Cordell.

Meira just wants her people to be safe. When Cordellan debt forces the Winterians to dig their mines for payment, they unearth something powerful and possibly dangerous: Primoria's lost chasm of magic. Theron sees this find as an opportunity—with this much magic, the world can finally stand against threats like Angra. But Meira fears the danger the chasm poses—the last time the world had access to so much magic, it spawned the Decay. So when the king of Cordell orders the two on a mission across the kingdoms of Primoria to discover the chasm's secrets, Meira plans to use the trip to garner support to keep the chasm shut and Winter safe—even if it means clashing with Theron. But can she do so without endangering the people she loves?

Mather just wants to be free. The horrors inflicted on the Winterians hang fresh and raw in Januari—leaving Winter vulnerable to Cordell's growing oppression. When Meira leaves to search for allies, he decides to take Winter's security into his own hands. Can he rebuild his broken kingdom and protect them from new threats?

As the web of power and deception weaves tighter, Theron fights for magic, Mather fights for freedom—and Meira starts to wonder if she should be fighting not just for Winter, but for the world.
När jag läste Snow Like Ashes förra året så hamnade den bland mina favoriter (trots att vi inte riktigt kom överrens i början) och jag har sedan jag lade ifrån mig boken längtat efter den här uppföljaren. Förväntningarna var dock inte orimligt höga, vilket jag nu i efterhand kan tycka var skönt. För även om jag mer eller mindre älskade Ice Like Fire, så levde den inte riktigt upp till sin föregångare.

Dock var jag väldigt förtjust i handlingen, även om det egentligen inte hände så särskilt mycket. Ice Like Fire har helt klart drabbats av mellanbokssyndromet, och mycket tid läggs på att resa omkring och på att bygga upp inför den stora finalen. Lite för långsam var den dock emellanåt, och det drar tyvärr ner på betyget. Jag tyckte också att vissa saker kändes på tok för lätta, och det var ingen riktig spänning förrän framför slutet. Men missförstå mig inte, det var fortfarande en riktigt, riktigt bra bok.

Av karaktärerna så tycker jag väldigt mycket om Meira. Hon är smart och modig, och jag gillar hur mycket hon vill skydda sitt folk. I första boken var jag helt förälskad i Theron, men jag fick inte samma känsla här. Spoilers -->

Av förklarliga skäl, såklart. Jag är dock så glad att jag inte läste om Snow Like Ashes (vilket jag först hade tänkt göra) för i sådana fall tror jag inte att jag skulle kunna förlåta Sara Raasch för vad hon gjorde mot honom i den här boken. Och det irriterar mig så att jag är helt övertygad om att han inte kommer att sluta upp med Meira. Det känns liksom för sent nu

, spoilers slut. Mather däremot tyckte jag inte så mycket om i första boken, men gillade honom betydligt bättre här. Vilket inte alls är bra, för jag blir bara så förvirrad. I övrigt så var nog Ceridwen min nya favorit, och jag tyckte så mycket om henne.

Ice Like Fire var en bra bok, men lite för mycket av en mellanbok. Jag är dock övertygad om att finalen kommer att vara helt spektakulär, och jag räknar redan ner dagarna tills den sista boken släpps (om sådär ett år). Rekommenderas varmt till alla fantasyfans.