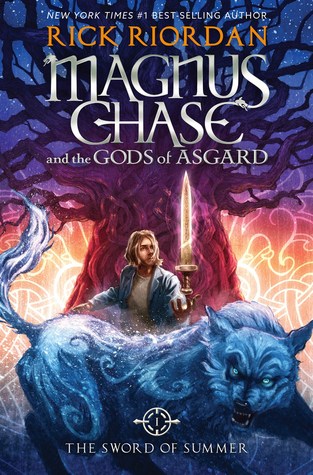 Titel:
The Sword of Summer
Författare:
Rick Riordan
Serie:
Magnus Chase and the Gods of Asgard #1
Sidor:
499
Magnus Chase has always been a troubled kid. Since his mother's mysterious death, he's lived alone on the streets of Boston, surviving by his wits, keeping one step ahead of the police and the truant officers.

One day, he's tracked down by a man he's never met—a man his mother claimed was dangerous. The man tells him an impossible secret: Magnus is the son of a Norse god.

The Viking myths are true. The gods of Asgard are preparing for war. Trolls, giants and worse monsters are stirring for doomsday. To prevent Ragnarok, Magnus must search the Nine Worlds for a weapon that has been lost for thousands of years.

When an attack by fire giants forces him to choose between his own safety and the lives of hundreds of innocents, Magnus makes a fatal decision.

Sometimes, the only way to start a new life is to die

...
Rick Riordan är ju en av mina absoluta favoritförfattare och jag har längtat halvt ihjäl mig efter att få läsa The Sword of Summer. Förväntningarna var skyhöga, och jag kan glatt meddela att boken helt klart levde upp till dessa.
Riordan är ju expert på att skriva humoristiska böcker fulla av mytologi, och efter grekisk, egyptisk och romersk sådan, så har turen äntligen kommit till den nordiska mytologin. Vilket jag givetvis tycker är extra intressant eftersom, hallå..norden. The Sword of Summers handling var fantastiskt spännande och åh, så rolig, samtidigt som den är oerhört informativ, och jag absolut älskade varenda sida. Riordan gör verkligen historien till sin egen och det här är nog en av mina favoriter bland hans böcker.
Karaktärerna var dessutom så härliga, och allra helst Magnus tar ett stort kliv in på min favoritlista. Han var rolig, och charmig, och jag tyckte så mycket om honom. Även bi-karaktärerna var underbara, och då särskilt Sam, Hearth och Blitzen. Min favorit av gudarna var Thor och han fick mig att skratta så att jag nästan grät. Dessutom kunde jag, trots att han beskrivs på ett helt annat sätt, inte låta bli att föreställa mig honom som Chris Hemsworth, vilket bara gjorde det hela ännu roligare..
The Sword of Summer var så himla bra. Spännande, rolig och med en enastående huvudkaraktär. Jag längtar så efter uppföljaren (som förhoppningsvis innehåller ännu mera Thor) och den här boken tar en given plats bland mina favoriter. Rekommenderas såväl till fans av Percy Jackson och/eller syskonen Kane som till nya läsare. Gå, läs, nu.
Favoritcitat:
"Could you do a glamour and turn into something smaller?" I asked it. "Preferably not a chain, since it's no longer the 1990s?"
The sword didn't reply (duh), but I imagined it was humming at a more interrogative pitch, like, Such as what?
"I dunno. Something pocket-size and innocuous. A pen, maybe?"
The sword pulsed, almost like it was laughing. I imagined it saying, A pen sword. That is the stupidest thing I've ever heard."
"Another yap shook the room. Broken branches tumbled to the floor. "Wh-what's up there?" I asked, my knees shaking. I thought about the Norns' prophecy, naming me a harbinger of evil. "Is it—the Wolf?"
"Oh, much worse," Blitzen said. "It's the Squirrel."