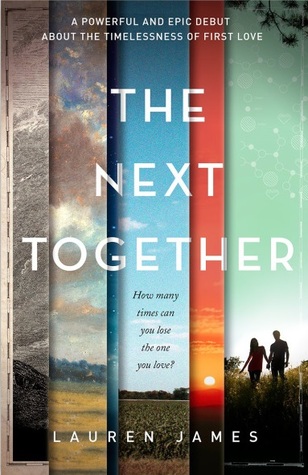 Titel:
The Next Together
Författare:
Lauren James
Serie:
The Next Together #1
Sidor:
356
How many times can you lose the person you love?

Katherine and Matthew are destined to be born again and again, century after century. Each time, their presence changes history for the better, and each time, they fall hopelessly in love, only to be tragically separated.

Spanning the Crimean War, the Siege of Carlisle and the near-future of 2019 and 2039 they find themselves sacrificing their lives to save the world. But why do they keep coming back? What else must they achieve before they can be left to live and love in peace?

Maybe the next together will be different...
När The Next Together kom in på jobbet så kunde jag inte låta bli att genast låna hem den. Jag hade väl inga egentliga förväntningar sådär, och det kanske var tur eftersom jag inte föll helt för boken även om jag samtidigt tyckte om den.

Handlingen om Katherine och Matthew som återföds om och om igen för att bli kära och sedan förlora varandra hade kunnat vara så bra. Men tyvärr så fastnade jag inte för karaktärerna och det gör det genast mycket svårare att fastna för en sådan berättelse. Vissa delar var dock väldigt spännande, och jag verkligen plöjde mig igenom boken. Mina favorithistorier var den på 1700-talet och den som pågick 2019. Jag gillade även 2039, men var inte särskilt intresserad av 1854. Jag saknar dessutom förklaringar på mycket och det känns som att boken lämnade mig med fler frågor än svar. Och det är aldrig positivt.

Som sagt så fastnade jag aldrig för karaktärerna, och jag tror just att tidshoppen gjorde det svårt att lära känna dem på djupet. Även om de samtidigt var samma personer. Jag gillade dock Katherines humor och Matthews omtänksamhet. I övrigt var mina favoriter 2019s Kate och Matthew.

Slutet var inte eller helt klart och jag hade velat ha mer svar. Allra helst eftersom uppföljaren verkar ska handla om någon annan. Jag hoppas, och tror, dock att det kommer vara Clove som huvudperson. Jag är helt klart tillräckligt intresserad för att ge den en chans, och The Next Together var en helt okej läsupplevelse. Jag gillade handlingen, men hade velat ha mer från karaktärerna. Men helt klart värd att läsa om man redan är intresserad.