Titel:
Ty riket är ditt
Författare:
Therese Granwald
Serie:
-
Sidor:
199
Vad händer om man bestämmer sig för att ge upp sig själv fullständigt för någon annan, och hur hänger det ihop med kärlek? Vilken är den totala hängivelsen? Vad sker när man lovar att stanna oavsett vad? Vem är man när man gett upp sitt eget rike?

Anna lämnar livet och vännerna i stan för en sommar i huset invid älven, långt ute på landet tillsammans med sin pojkvän. Långsamt driver dagarna förbi, de är utelämnade åt varandra, åt tystnaden och det ständigt växande trycket mellan dem. Han vet att hon ska lämna honom. Hon har lovat att aldrig gå, att han är den enda hon kan älska.

Eva är bara 17 år gammal när hon förälskar sig i mannen hon möter i Hoffmanns fotoateljé. Och även om han aldrig vill vara bara hennes följer hon honom upp bland bergstopparna och ner i bunkerns mörker. För hon vet att inget smickrar så mycket som viljan att dö för någon.

Sara befinner sig i ett låst rum. Men rummet är en fristad, en frihet jämfört med livet utanför, livet innan, i församlingen där hon förlorat det egna jaget, i en relation som drivit henne till att skjuta en annan människa.
Det är inte ofta jag läser svenska böcker. Allra helst inte "vuxenböcker". Men när jag läste på baksidan av Ty riket är ditt så blev jag så intresserad att jag genast lånade hem den och kastade mig över den. Så här i efterhand kan jag tycka att det är en svår bok att betygsätta. Den är intressant, men kanske inte så lätt att tycka om. Obehaglig, liksom. Den historia jag fastnade mest för var den om Anna & Andreas, och det var även den som höll intresset vid liv. I det stora hela så gillade jag dock boken, och rekommenderar den gärna till den som är intresserad.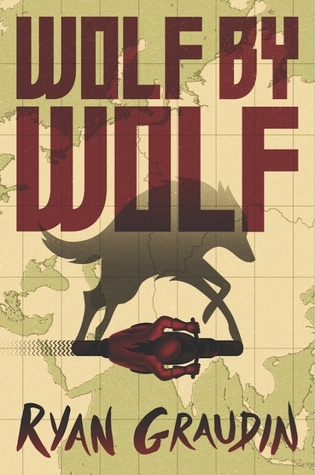 Titel:
Wolf by Wolf
Författare:
Ryan Graudin
Serie:
Wolf by Wolf #1
Sidor:
379
The year is 1956, and the Axis powers of the Third Reich and Imperial Japan rule the world. To commemorate their Great Victory over Britain and Russia, Hitler and Emperor Hirohito host the Axis Tour: an annual motorcycle race across their conjoined continents. The victor is awarded an audience with the highly reclusive Adolf Hitler at the Victor's ball.

Yael, who escaped from a death camp, has one goal: Win the race and kill Hitler. A survivor of painful human experimentation, Yael has the power to skinshift and must complete her mission by impersonating last year's only female victor, Adele Wolfe. This deception becomes more difficult when Felix, Adele twin's brother, and Luka, her former love interest, enter the race and watch Yael's every move. But as Yael begins to get closer to the other competitors, can she bring herself to be as ruthless as she needs to be to avoid discovery and complete her mission?
Wolf by Wolf är en berättelse om en alternativ värld. En värld där alliansen förlorade andra världskriget och där Hitler vann. Självklart så blev den ett måste på min att läsa lista, och nu i efterhand kan jag bara säga att wow, vilken bok. Jag absolut älskade varenda sida, och jag rekommenderar den mer än gärna till precis alla. Gå, läs, NU!