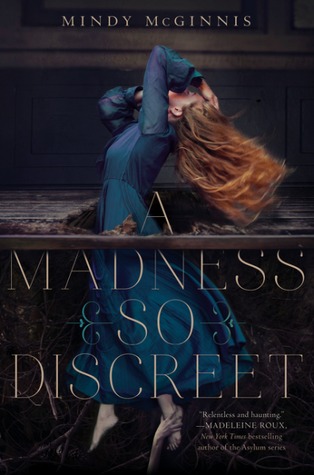 Titel:
A Madness So Discreet
Författare:
Mindy McGinnis
Serie:
-
Sidor:
374
Grace Mae knows madness.

She keeps it locked away, along with her voice, trapped deep inside a brilliant mind that cannot forget horrific family secrets. Those secrets, along with the bulge in her belly, land her in a Boston insane asylum.

When her voice returns in a burst of violence, Grace is banished to the dark cellars, where her mind is discovered by a visiting doctor who dabbles in the new study of criminal psychology. With her keen eyes and sharp memory, Grace will make the perfect assistant at crime scenes. Escaping from Boston to the safety of an ethical Ohio asylum, Grace finds friendship and hope, hints of a life she should have had. But gruesome nights bring Grace and the doctor into the circle of a killer who stalks young women. Grace, continuing to operate under the cloak of madness, must hunt a murderer while she confronts the demons in her own past.
Jag var övertygad om att jag redan hade skrivit en recension på den här boken, men jag hittar den ingenstans. Så tyvärr vet jag inte riktigt vad jag ska skriva nu för jag är lite less.. Men hur som helst så älskade jag den här boken. Början var helt fantastisk och åh, så obehaglig. Mitten och slutet med mordmysteriet var också superspännande och kändes lite Sherlock Holmes aktigt, så där. Jag var dessutom väldigt förtjust i karaktärerna (allra helst Grace), och det fanns inget jag inte gillade med boken. Rekommenderas varmt!
Titel:
The Rose Society
Författare:
Marie Lu
Serie:
The Young Elites #2
Sidor:
397
Spoilervarning! Boken ingår i en serie, spoilers från tidigare böcker förekommer.
Once upon a time, a girl had a father, a prince, a society of friends. Then they betrayed her, and she destroyed them all.
Adelina Amouteru's heart has suffered at the hands of both family and friends, turning her down the bitter path of revenge. Now known and feared as the White Wolf, she and her sister flee Kenettra to find other Young Elites in the hopes of building her own army of allies. Her goal: to strike down the Inquisition Axis, the white-cloaked soldiers who nearly killed her.

But Adelina is no heroine. Her powers, fed only by fear and hate, have started to grow beyond her control. She does not trust her newfound Elite friends. Teren Santoro, leader of the Inquisition, wants her dead. And her former friends, Raffaele and the Dagger Society, want to stop her thirst for vengeance. Adelina struggles to cling to the good within her. But how can someone be good, when her very existence depends on darkness?
The Young Elites är en av mina favoritböcker, så jag har självklart längtat så efter den här uppföljaren. Berättelsen om Adelina och hennes krafter är så himla spännande och jag älskar att huvudkaraktären är så pass mörk. The Rose Society var minst lika bra, om inte bättre, som sin föregångare och sidorna bara flög förbi. Handlingen var superspännande, karaktärerna oerhört fascinerande, och slutet var bara så hjärtskärande. Jag längtar redan efter sista boken i serien.