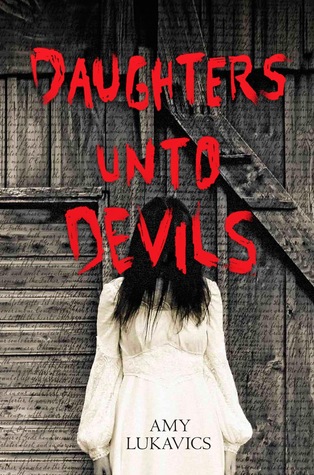 Titel:
Daughters unto Devils
Författare:
Amy Lukavics
Serie:
-
Sidor:
231
When sixteen-year-old Amanda Verner's family decides to move from their small mountain cabin to the vast prairie, she hopes it is her chance for a fresh start. She can leave behind the memory of the past winter; of her sickly Ma giving birth to a baby sister who cries endlessly; of the terrifying visions she saw as her sanity began to slip, the victim of cabin fever; and most of all, the memories of the boy she has been secretly meeting with as a distraction from her pain. The boy whose baby she now carries.

When the Verners arrive at their new home, a large cabin abandoned by its previous owners, they discover the inside covered in blood. And as the days pass, it is obvious to Amanda that something isn't right on the prairie. She's heard stories of lands being tainted by evil, of men losing their minds and killing their families, and there is something strange about the doctor and his son who live in the woods on the edge of the prairie. But with the guilt and shame of her sins weighing on her, Amanda can't be sure if the true evil lies in the land, or deep within her soul.
Några av mina favoritförfattare har pratat gott om Daughters unto Devils, och det gjorde mig givetvis nyfiken på att läsa den. Jag gillar ju skräck, och även om inte förväntningarna var skyhöga så hoppades jag ändå på en riktigt bra bok. Tyvärr var den inte så bra som jag hoppats på, men jag gillade den ändå.

Början var så långsam och jag var riktigt uttråkad ett tag. Jag ville ha så mycket mer, men nästan ingenting hände. Framåt mitten, slutet någon gång blev det dock riktigt spännande och det var fullt av ytterst obehagliga scener. Amy Lukavics har verkligen potentialen till att skriva riktigt bra skräck, och jag ser helt klart fram emot att läsa mer av henne i framtiden. Det var dessutom några saker som kändes oklart för mig (spoilers -->

var Henry en demon? var det han som skickade dem till prärien och gjorde han det med flit? och vad var egentligen själva ondskan och vad var det med den där skogen? vad hände alldeles i slutet?

), och jag blev väldigt besviken på att inte få mina svar.

Karaktärerna var dock inte särskilt intressanta och jag fastnade inte riktigt för någon av dem. Man lär inte känna någon av dem särskilt väl, och den enda jag var okej med var väl Amanda.

Daughters unto Devils var en bra bok, men den hade kunnat vara så mycket bättre. Riktigt skrämmande där i slutet, men en för lång startsträcka, och för många obesvarade frågor drar ner på betyget.