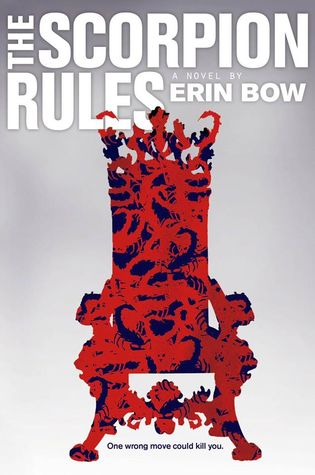 Titel:
The Scorpion Rules
Författare:
Erin Bow
Serie:
Prisoners of Peace #1
Sidor:
374
A world battered by climate shift and war turns to an ancient method of keeping peace: the exchange of hostages. The Children of Peace - sons and daughters of kings and presidents and generals - are raised together in small, isolated schools called Preceptures. There, they learn history and political theory, and are taught to gracefully accept what may well be their fate: to die if their countries declare war.

Greta Gustafsen Stuart, Duchess of Halifax and Crown Princess of the Pan-Polar Confederation, is the pride of the North American Precepture. Learned and disciplined, Greta is proud of her role in keeping the global peace, even though, with her country controlling two-thirds of the world's most war-worthy resource — water — she has little chance of reaching adulthood alive.

Enter Elián Palnik, the Precepture's newest hostage and biggest problem. Greta's world begins to tilt the moment she sees Elián dragged into the school in chains. The Precepture's insidious surveillance, its small punishments and rewards, can make no dent in Elián, who is not interested in dignity and tradition, and doesn't even accept the right of the UN to keep hostages.

What will happen to Elián and Greta as their two nations inch closer to war?
The Scorpion Rules hamnade på min att läsa lista efter att jag sett ett par positiva recensioner från några av mina favoritförfattare
. Själv var jag, tragiskt nog, inte helt intresserad innan dess. Vilket hade varit ett stort misstag från min sida när det visade sig att jag fullkomligt älskade den här boken.
Handlingen var så himla bra, och det fanns inget jag inte älskade. Det kanske låter som den vanliga dystopin vi är så vana vid i dagsläget, men The Scorpion Rules är så mycket mer. Med en skurk man inte kan låta bli att älska, och med så många spännande twister så är det inte konstigt att den hamnar bland mina absoluta favoriter.
Karaktärerna var alla fantastiska. Jag älskade prinsessan Greta. Hon var så intressant och modig, och jag gillade verkligen hennes utveckling.
Elián var charmig och sarkastisk, och Xie var oerhört fängslande. Men min favorit var ändå Talis. Han fick mig att skratta högt vid upprepade tillfällen, och som, trots att han är en maskin som tagit över världen, fick mig att delvis tycka att han hade en poäng.
Vilket jag fann väldigt imponerande.
Slutet var inte vad jag först förväntat mig, och det både förvånade mig och krossade mitt hjärta en aning. Jag hoppas verkligen att man kommer att få träffa dessa karaktärer i companion uppföljaren också.
The Scorpion Rules var en enastående bok. Smart, rolig, spännande och sorglig. Med underbara karaktärer och en romans som överraskar så får den en given plats på min favorithylla, och jag kan inte annat än att rekommendera alla att läsa den.