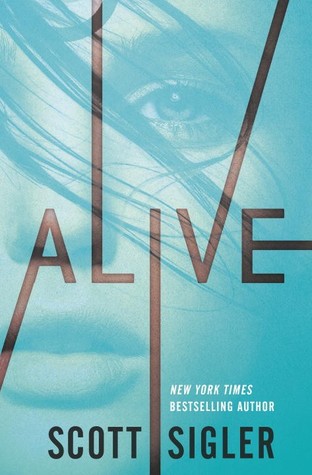 Titel:
Alive
Författare:
Scott Sigler
Serie:
The Generations Trilogy #1
Sidor:
345
A young woman awakes trapped in an enclosed space. She has no idea who she is or how she got there. With only her instincts to guide her, she escapes her own confinement—and finds she's not alone. She frees the others in the room and leads them into a corridor filled with the remains of a war long past. The farther these survivors travel, the worse are the horrors they confront. And as they slowly come to understand what this prison is, they realize that the worst and strangest possibilities they could have imagined don't even come close to the truth.
Alive är en sån där bok som jag varit intresserad av, men den har inte legat högst på min önskelista. Som tur var så stötte jag dock på den inne på SF Bokhandeln, och tack för det för wow, vilken bok!
Handlingen är en sådan man mår bäst av att veta så lite som möjligt om, så därför tänker jag inte berätta något. Men vad jag kan säga är att den var vansinnigt spännande, full av välplanerade twister, och när jag väl förstod hur allt låg till så kunde jag inte göra annat än att bara gapa av häpnad.
Av karaktärerna så är det mest Em man lär känna. Och jag gillade henne skarpt. Hon var smart, modig, och helt klart en born leader. I övrigt så gillade jag både O´Malley och Bishop, samtidigt som jag också ställer mig lite tveksam till de båda. Även Gaston och Spingate var charmiga bi-karaktärer, och som jag tyckte mycket om.
Alive var sanslöst spännande och den överraskade mig totalt. Jag gillar ju i vanliga fall inte att jämföra böcker, men om du tycker om The Maze Runner eller The Girl with All the Gifts så kan det här helt klart vara en bok för dig. Rekommenderas varmt.