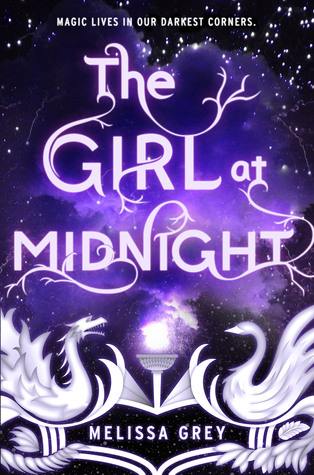 Titel:
The Girl at Midnight
Författare:
Melissa Grey
Serie:
The Girl at Midnight #1
Sidor:
357
Beneath the streets of New York City live the Avicen, an ancient race of people with feathers for hair and magic running through their veins. Age-old enchantments keep them hidden from humans. All but one. Echo is a runaway pickpocket who survives by selling stolen treasures on the black market, and the Avicen are the only family she's ever known.

Echo is clever and daring, and at times she can be brash, but above all else she's fiercely loyal. So when a centuries-old war crests on the borders of her home, she decides it's time to act.

Legend has it that there is a way to end the conflict once and for all: find the Firebird, a mythical entity believed to possess power the likes of which the world has never seen. It will be no easy task, though if life as a thief has taught Echo anything, it's how to hunt down what she wants . . . and how to take it.

But some jobs aren't as straightforward as they seem. And this one might just set the world on fire.
The Girl at Midnight var en sån där bok som jag, när jag först hörde talas om den, bara visste att jag måste läsa. Men sedan trillade det in lite negativa recensioner, och istället blev den liggandes oläst i bokhyllan i flera månader. Men nu har jag äntligen gett den en chans, och jag måste säga att jag tyckte väldigt mycket om den.

Handlingen påminner mig om Laini Taylors Daughter of Smoke and Bone. Men inte så mycket att det blir negativt. Jag älskade den här världen med Avicen och Drakharin och jag gillar att få föreställa mig hur de ser ut. Handlingen var dessutom väldigt spännande, även om det inte alls var särskilt svårt att lista ut hur allt låg till. En magisk och mysig bok som jag riktigt njöt av att läsa.

Karaktärerna var dock bokens starkaste sida, och jag absolut älskade Echo. Hon var charmig, smart och så himla sarkastisk. Och det gillar jag. Jag tyckte även om Ivy, Dorian och Caius. Fast min favorit var nog ändå Jasper och jag hoppas att han får vara med ännu mer i nästa bok. I övrigt så tyckte jag faktiskt väldigt mycket om romansen, även om det känns som att jag är en av få.

The Girl at Midnight var bättre än vad jag förväntade mig, och jag gillade den mycket. Ser helt klart fram emot dess uppföljare, och jag rekommenderar den gärna.