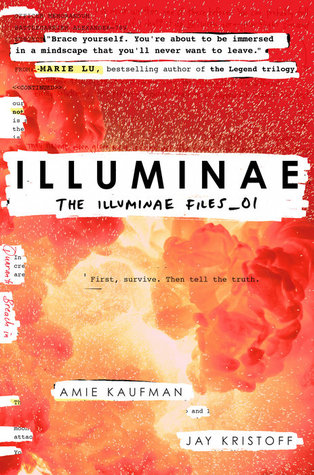 Titel:
Illuminae
Författare:
Amie Kaufman & Jay Kristoff
Serie:
The Illuminae Files #1
Sidor:
599
This morning, Kady thought breaking up with Ezra was the hardest thing she'd have to do.

This afternoon, her planet was invaded.

The year is 2575, and two rival megacorporations are at war over a planet that's little more than an ice-covered speck at the edge of the universe. Too bad nobody thought to warn the people living on it. With enemy fire raining down on them, Kady and Ezra—who are barely even talking to each other—are forced to fight their way onto an evacuating fleet, with an enemy warship in hot pursuit.

But their problems are just getting started. A deadly plague has broken out and is mutating, with terrifying results; the fleet's AI, which should be protecting them, may actually be their enemy; and nobody in charge will say what's really going on. As Kady hacks into a tangled web of data to find the truth, it's clear only one person can help her bring it all to light: the ex-boyfriend she swore she'd never speak to again.

Told through a fascinating dossier of hacked documents—including emails, schematics, military files, IMs, medical reports, interviews, and more—Illuminae is the first book in a heart-stopping, high-octane trilogy about lives interrupted, the price of truth, and the courage of everyday heroes.
Illuminae har helt klart varit en av höstens, och till och med årets, mest efterlängtade boksläpp för min del. Förhandsrecensionerna har varit strålande, och mina förväntningar var givetvis skyhöga. Om den levde upp till dessa? Läs vidare så får ni se.

Handlingen var fantastisk. Alltså helt fantastisk. Det är rymdskepp och planetutplåningar. Kärlek och space zombies. Lägg dessutom till en helt galen AI/Robot Dator så börjar ni närma er mästerverket som är Illumiae. Det är så mycket jag vill säga just nu, men orden räcker liksom inte till. Slutet var dessutom helt, helt enastående bra, och jag längtar så efter uppföljaren.

Karaktärerna var superhärliga och jag älskade både Kady och Ezra. Kady var så tuff och smart, och Ezra var charmig och modig. Jag gillar dessutom att det känns som att Kady var den tuffare utav dem, och hon är ju -->

själva hjälten i den här boken

, spoilers slut. Något jag uppskattade mycket. Det fanns dessutom en del intressanta bi-karaktärer, men -->

de dog ju, liksom

, spoilers slut.

Illuminae levde helt klart upp till mina förväntningar, och jag är aningen mind blown över det hela. Så himla bra, helt enkelt, och nu antar jag att det inte finns så mycket mer att göra än att börja räkna ner dagarna tills att uppföljaren kommer ut. Om sisådär ett år. Rekommenderas varmt.