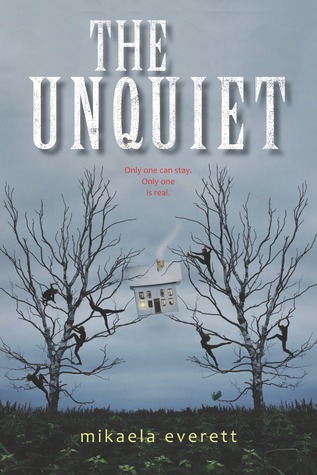 Titel:
The Unquiet
Författare:
Mikaela Everett
Serie:
-
Sidor:
453
There are two Earths, almost identical in every way—two copies of every person, every city, every stone or blade of grass—but one Earth is slowly disappearing, person by person, city by city. And they don't plan to go quietly. Lirael has been training since she was a child to be a merciless sleeper-soldier for her vanishing planet.

Her mission is to kill her duplicate on the other Earth and slip seamlessly into her life. The family never even suspects they are living with an imposter.

She is the perfect soldier.

At least, she is in the beginning.

But the wait for the final order—to rise up and take over the planet—is long. By the time it comes, will Lirael still be willing to destroy everyone who has ever loved her?
The Unquiet hamnade på min att läsa lista efter att ha sett ett par väldigt positiva recensioner av folk vars boksmak jag litar på. Innan dess var jag faktiskt inte så jätteintresserad av att läsa den. Vilket hade varit ett misstag eftersom det här var en väldigt bra bok.

Handlingen är ganska långsam, och jag måste erkänna att jag störde mig lite på tidshoppen. Men samtidigt fastnade jag i boken redan från början, och den var både stämningsfull, vacker och ledsam. Det är en historia som jag känner att mina ord inte riktigt kan beskriva, men den var åh, så bra. Dessutom är språket fantastiskt, och jag längtar redan efter en ny bok av Mikaela Everett.

Av karaktärerena så tyckte jag mycket om Lirael, även om jag långt ifrån respekterade alla hennes val. Hon har liksom blivit hjärntvättad till det här livet, och hon gör det bästa hon kan med vad hon har. Och det kan jag respektera. I övrigt så gillade jag systern Cecily mycket, och jag tyckte även bra om Edith, Gray och Jack.

The Unquiet var en bok som grep tag i mig, och den var inte alls som jag först förväntat mig. En väldigt speciell berättelse som helt klart är värd att läsa. Och jag älskade hur allt slutade. Rekommenderas varmt.