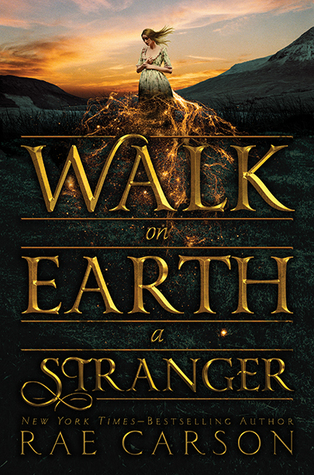 Titel:
Walk on Earth a Stranger
Författare:
Rae Carson
Serie:
The Gold Seer Trilogy #1
Sidor:
432
Lee Westfall has a strong, loving family. She has a home she loves and a loyal steed. She has a best friend—who might want to be something more.

She also has a secret.

Lee can sense gold in the world around her. Veins deep in the earth. Small nuggets in a stream. Even gold dust caught underneath a fingernail. She has kept her family safe and able to buy provisions, even through the harshest winters. But what would someone do to control a girl with that kind of power? A person might murder for it.

When everything Lee holds dear is ripped away, she flees west to California—where gold has just been discovered. Perhaps this will be the one place a magical girl can be herself. If she survives the journey.
Tidigare i år läste jag äntligen Rae Carsons första trilogi, Fire and Thorns, och absolut älskade den. Så Walk on Earth a Stranger hade en given plats på min att läsa lista, och jag beställde genast hem den då den släpptes. Men eftersom jag precis läst en annan Western bok (Vengeance Road av Erin Bowman), så kände jag mig tvungen att vänta lite innan jag påbörjade denna. Men nu har jag läst den och självklart så tyckte jag så mycket om den.

Det jag gillar mest med både Western filmer och böcker är att de är så himla spännande. Trots att inte särskilt mycket händer. Man lägger en massa tid på att rida eller gå över halva landet, ibland blir man rånad, också skjuter man på lite saker. Och det är ungefär det som händer i Walk on Earth a Stranger. Redan i första kapitlet fastnade jag för boken, och det var väldigt fängslande att följa Lees resa genom landet. Jag gillar dessutom att boken har ett starkt feministiskt budskap, och att inte mycket tid läggs på en potentiell romans. Handlingen bär liksom sig själv, och det hela är bara så bra.

Av karaktärerna så älskar jag Lee. Hon är så tuff och kapabel. Jag gillade dessutom Jefferson och Therese mycket. Och jag tyckte om sådär hälften av ressällskapet, samtidigt som jag hatade den andra halvan.

Walk on Earth a Stranger var en riktigt bra bok. Spännande och stämningsfull, samtidigt som den kunde bli aningen långsam emellanåt. Men det känns som en bra start för serien, och jag kan knappt vänta på att få läsa fortsättningen. Rekommenderas varmt.