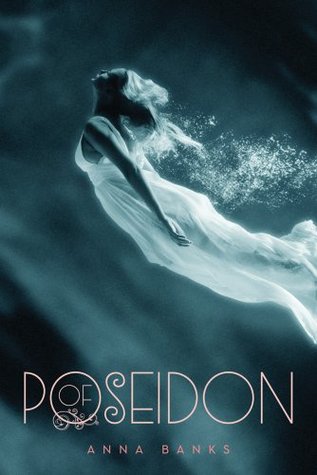 Titel:
Of Poseidon
Författare:
Anna Banks
Serie:
The Syrena Legacy #1
Sidor:
324
Galen is the prince of the Syrena, sent to land to find a girl he's heard can communicate with fish. Emma is on vacation at the beach. When she runs into Galen—literally, ouch!—both teens sense a connection. But it will take several encounters, including a deadly one with a shark, for Galen to be convinced of Emma's gifts. Now, if he can only convince Emma that she holds the key to his kingdom...

Told from both Emma and Galen's points of view, here is a fish-out-of-water story that sparkles with intrigue, humor, and waves of romance.
Jag har i princip bara hört bra saker om Of Poseidon, och den har därför funnits på min att läsa lista ganska länge. Nu när det börjar närma sig sommar så blev jag mer sugen på att ge den en chans, och jag fann att det var en bok jag tyckte riktigt mycket om.

Handlingen var både aningen spännande, och väldigt mysig. Jag har nog bara läst en bok om sjöjungfruar (Lies Beneath) tidigare, och jag måste säga att jag föredrar dem i den här boken. Om man bortser från början av boken (som var riktigt hemsk), så var Of Poseidon en lättsam och smårolig bok, som jag gillade mer än vad jag först trodde.

Jag gillade Emma mycket, hon var charmig och härligt envis. Jag gillar att hon stod på sig och inte lät Galen köra med henne. Galen var för övrigt också en intressant karaktär, och jag tyckte väldigt mycket om deras relation. Jag var rädd för att det skulle vara insta-love på högsta nivå, och blev därför väldigt överraskad när dem istället lärde känna varandra först och inte pratade om kärlek förrän i slutet.
Annars så gillade jag Toraf, Rayna, och Rachel mycket, och jag hoppas på att lära känna Emmas mamma mer i nästa bok.

Of Poseidon är en perfekt sommarbok, och jag gillade den mycket. Slutet var riktigt spännande, och jag är glad över att jag har uppföljaren hemma. Rekommenderas.

Favoritcitat:

"The penguins love Emma. They waddle around, dive in and out of their pool, call out to her. She laughs. "They sound like donkeys!"
"Maybe you can talk to donkeys, too," Dr. Milligan smiles.
Emma nods. "I can. Sometimes Galen can be a jackass."