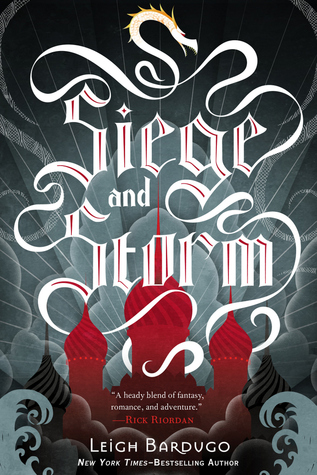 Titel:
Siege and Storm
Författare:
Leigh Bardugo
Serie:
The Grisha #2
Sidor:
432
Spoilervarning! Boken ingår i en serie, spoilers från tidigare böcker förekommer.
Hunted across the True Sea, haunted by the lives she took on the Fold, Alina must try to make a life with Mal in an unfamiliar land. She finds starting new is not easy while keeping her identity as the Sun Summoner a secret. She can't outrun her past or her destiny for long.

The Darkling has emerged from the Shadow Fold with a terrifying new power and a dangerous plan that will test the very boundaries of the natural world. With the help of a notorious privateer, Alina returns to the country she abandoned, determined to fight the forces gathering against Ravka. But as her power grows, Alina slips deeper into the Darkling's game of forbidden magic, and farther away from Mal. Somehow, she will have to choose between her country, her power, and the love she always thought would guide her--or risk losing everything to the oncoming storm.
Jag läste Shadow and Bone för cirka ett år sedan, och även om jag gillade den, så levde den inte alls upp till mina förväntningar. Det har gjort att jag bara varit måttligt intresserad av den här uppföljaren, men eftersom sista boken i serien kommer ut om lite mer än en vecka så tyckte jag att det var dags att ge Siege and Storm en chans. Och jag är så glad att jag gjorde det, för det här var helt klart en bok mer i min smak, och jag tyckte så mycket om den.
Även i den här boken är början och slutet fulla av action, medan mittendelen är aningen långsammare. Här störde det mig dock inte alls, och jag njöt även när tempot inte var särskilt högt. Jag absolut älskar världen som Leigh Bardugo har byggt upp, och den är både fantasifull och lite skrämmande. Handlingen är spännande och magisk, och Bardugos språk är sanslöst vackert och perfekt. Det här är vad jag hade förväntat mig av Shadow and Bone, och jag är så glad att även jag äntligen förstår storheten i Leigh Bardugo och hennes böcker.
Karaktärerna är tyvärr det jag gillar minst med boken, och trots att jag tycker mycket om Alina, känner jag mig även aningen likgiltig mot henne ibland. Hon är en intressant karaktär, men jag har svårt att relatera till henne. Dock gillar jag hennes utveckling, och hon blir bara bättre och bättre.
I första boken så älskade jag relationen mellan Alina och Mal, men här tycker jag inte alls att dem är rätt för varandra längre. Mal har sjunkit väldigt i mina ögon, och jag tycker inte alls om att han inte verkar kunna acceptera Alina längre. Kärlek ska helt enkelt inte vara så här svårt, och jag hoppas inte längre på ett lyckligt slut för de bästa vännerna. Däremot så absolut avgudar jag Nikolai, och jag hoppas så på honom och Alina i nästa bok.
Jag har svårt att förstå att så många älskar The Darkling. För mig är han bara creepy, även om jag inte kan förneka att han är en ganska så perfekt bad guy, och för det mesta finner jag honom att vara väldigt obehaglig och skrämmande.
Siege and Storm var så mycket bättre än vad jag förväntat mig, och jag mer eller mindre älskade den. Slutet var oerhört bra, och nu kan jag inte göra annat än att räkna ner dagarna tills Ruin and Rising kommer ut. Rekommenderas varmt.
Favoritcitat:
"The Darkling will hunt you for the rest of your days."
"Then you and I will have something in common, won't we? Besides, I like to have powerful enemies. Makes me feel important."
Mal crossed his arms and considered the privateer. "I can't decide if you're crazy or stupid."
"I have so many good qualities," Sturmhond said. "It can be hard to choose."
"You know the problem with heroes and saints, Nikolai?" I asked as I closed the book's cover and headed for the door. "They always end up dead."