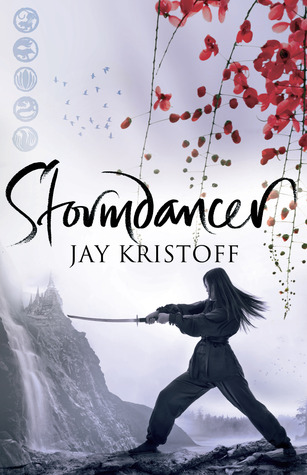 Titel:
Stormdancer
Författare:
Jay Kristoff
Serie:
The Lotus War #1
Sidor:
449
A DYING LAND
The Shima Imperium verges on the brink of environmental collapse; an island nation once rich in tradition and myth, now decimated by clockwork industrialization and the machine-worshipers of the Lotus Guild. The skies are red as blood, the land is choked with toxic pollution, and the great spirit animals that once roamed its wilds have departed forever.

AN IMPOSSIBLE QUEST
The hunters of Shima's imperial court are charged by their Shōgun to capture a thunder tiger – a legendary creature, half-eagle, half-tiger. But any fool knows the beasts have been extinct for more than a century, and the price of failing the Shōgun is death.

A HIDDEN GIFT
Yukiko is a child of the Fox clan, possessed of a talent that if discovered, would see her executed by the Lotus Guild. Accompanying her father on the Shōgun's hunt, she finds herself stranded: a young woman alone in Shima's last wilderness, with only a furious, crippled thunder tiger for company. Even though she can hear his thoughts, even though she saved his life, all she knows for certain is he'd rather see her dead than help her.

But together, the pair will form an indomitable friendship, and rise to challenge the might of an empire.
Jag fick Stormdancer av min mamma förra sommaren (tack mamma!!), men sedan dess har den legat oläst i bokhyllan. Jag har tittat på den flera gånger, men av någon anledning har jag dragit mig för att läsa den. Och när jag väl plockade upp den så kom jag bara 34 sidor innan jag inte orkade läsa mer, och istället gjorde jag något jag gör oerhört sällan, jag lade ifrån mig boken och började på en annan istället. Men trots det så kunde jag inte sluta att tänka på Stormdancer, och två dagar senare gav jag den en ny chans, något jag är väldigt glad över, för åh, så bra den här boken helt plötsligt var.
Början är väldigt seg, och det pågår en hel del info dumping. Jay Kristoff bygger upp en hel ny värld, och eftersom den är makalöst detaljerad, så är det mycket att ta in. Han slänger även in en del japanska ord här och där, och eftersom jag inte visste vad det betydde, så spenderade jag mycket tid med att googla allt. Något som visade sig vara rätt onödigt när jag kom till slutet av boken och upptäckte ordlistan som fanns där. Så lär av mig, och kolla ordlistan det första ni gör om ni är nyfiken på vad saker och ting betyder.
150 sidor in kommer handlingen igång på allvar, och då blir det så oerhört bra. Handlingen är spännande, full av action, och alldeles hjärtskärande emellanåt. Det är en blandning av steampunk och fantasy, i ett feodaliskt Japaninspirerat land. Det är mytologi, industri, och revolution. En hjältinna och hennes Grip. Det är så jäkla bra att jag fortfarande har svårt att smälta allt. Så även om startsträckan är lång, och det är mycket att ta in, så är det till sist så värt det.
Yukiko är en enastående karaktär, och hon är så bad ass. Jag finner inte riktigt orden för att beskriva henne, men hon är helt klart en av mina absoluta favoritkaraktärer någonsin. Jag älskade Buruu och hand humor. Yukiko och Buruu tillsammans var ett oslagbart team, och deras fightingscener gav mig ärligt talat gåshud. Jag tyckte dessutom mycket om Kin, och jag hoppas på att få se mer av honom i nästa bok.
Stormdancer slog mig verkligen med häpnad, och innan jag ens kommit halvvägs in så hade jag redan beställt hem uppföljaren. Världen och karaktärerna som Jay Kristoff har skapat är något av ett mästerverk, och jag ser fram emot att följa hans författarkarriär. Om det inte vore för att början av boken var så seg hade det blivit en fullpoängare, men idag får Stormdancer nöja sig med en nia;
Favoritcitat:
"Dying is easy. Anyone can throw themselves onto the pyre and rest a happy martyr. Enduring the suffering that comes with sacrifice is the real test."
"Yukiko steered the subject away from sex as fast as she could. She was still occasionally woken by nightmares about the day her father had tried to sit her down for "the talk"."
"You walked into this village with a thunder tiger beside you. You have slain demons with your own hands. Are the old myths really that hard to believe?
'They wouldn't be myths otherwise, would they?'
'Then have a care, Yukiko-chan,' Daichi smiled. 'Keeping the company of the last arashitora in Shima sounds like an excellent way to become a myth yourself."