Titel:
Orange is the New Black: Mitt år i ett kvinnofängelse
Författare:
Piper Kerman
Serie:
-
Sidor:
344
Piper Kerman lever ett lyckligt hipsterliv i Brooklyn. Hon njuter av sin tillvaro som creative director och är förlovad med en tidskriftsredaktör. Hon har ganska lite gemensamt med den tjej hon var tio år tidigare, då hon under sina "vilda år efter college" hjälpte sin (dåvarande) flickvän att smuggla drogpengar till Europa. Men hennes förflutna hinner ikapp henne. Hon döms till ett femton månader långt straff på Club Fed", ett ökänt kvinnofängelse i Danbury.

I Orange Is the New Black skildrar Piper Kerman livet innanför murarna med djup medkänsla och många gånger stor komik. Vi får möta stenhårda affärsuppgörelser, raffinerat maktspel och drömmar som gått i kras. Men även en oväntad mänsklighet hos en grupp kvinnor som alla tagits ur sitt sammanhang. Vid mikrovågsugnarna samsas fredsaktivister med den ryska maffian, Yoga Janet erbjuder en stunds inre frid och den kreativa syjuntan börjar sticka dildos. När Piper åkte in var hon inte beredd på de nära relationer hon så småningom knyter med sina medfångar och inte heller på hur oerhört mycket hon har att lära av dem.
Ingen har väl undgått TV-serien Orange is the New Black, och eftersom den är en av mina favoriter så var jag väldigt nyfiken på att läsa boken som serien bygger på. Här är dock handlingen inte alls like spännande eller full av drama, och även om jag tyckte riktigt bra om den i början så hann jag bli uttråkad innan slutet kom. Mycket kanske för att jag inte tycker att Piper Kerman är en särskilt älskvärd person. Jag har egentligen inte så mycket mer att säga om den här boken, och även om betyget blir ett svagt gillar så rekommenderar jag att man håller sig till TV-serien. Den är så mycket bättre.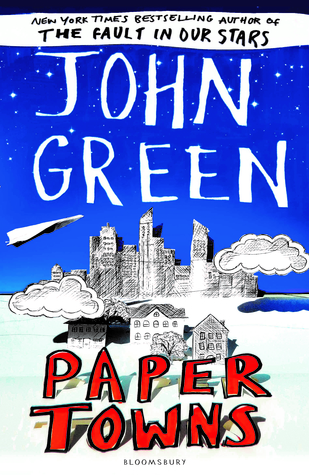 Titel:
Paper Towns
Författare:
John Green
Serie:
-
Sidor:
305
Quentin has always loved Margo Roth Spiegelman, for Margo (and her adventures) are the stuff of legend at their high school. So when she one day climbs through his window and summons him on an all-night road trip of revenge he cannot help but follow.

But the next day Margo doesn't come to school and a week later she is still missing. Q soon learns that there are clues in her disappearance . . . and they are for him. But as he gets deeper into the mystery – culminating in another awesome road trip across America – he becomes less sure of who and what he is looking for.
John Green är en enastående författare, det är liksom ingen tvekan om saken. Paper Towns är min tredje bok av honom och precis som med Looking for Alaska och TFiOS så tyckte jag väldigt mycket om den. Handlingen grep tag i mig från första början, och jag kunde helt enkelt inte sluta läsa. Jag
älskade nästan hela boken, men tyvärr så tyckte jag att boken tappade i slutet. Det blev lite för mycket av ett antiklimax, och jag hade helt enkelt velat haft lite mer. Karaktärerna var dock väldigt charmiga, och jag gillade alla. Jag ser helt klart fram emot filmen som kommer nu i sommar, och jag ser fram emot att läsa mer av John Green i framtiden. Rekommenderas.