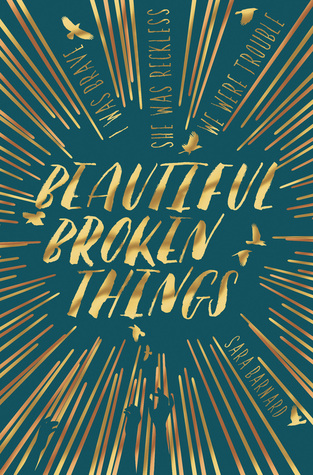 Titel:
Beautiful Broken Things
Författare:
Sara Barnard
Serie:
-
Sidor:
322
I was brave
She was reckless
We were trouble

Best friends Caddy and Rosie are inseparable. Their differences have brought them closer, but as she turns sixteen Caddy begins to wish she could be a bit more like Rosie – confident, funny and interesting. Then Suzanne comes into their lives: beautiful, damaged, exciting and mysterious, and things get a whole lot more complicated. As Suzanne's past is revealed and her present begins to unravel, Caddy begins to see how much fun a little trouble can be. But the course of both friendship and recovery is rougher than either girl realises, and Caddy is about to learn that downward spirals have a momentum of their own.
Jag såg en hel del positiva förhandsrecensioner av den här boken, men jag var själv inte helt övertygad. Men när jag hittade den inne på Akademibokhandeln så kände jag att jag definitivt måste läsa den. Och det visade sig att jag tyckte mycket om Beautiful Broken Things.

Handlingen är oerhört fin. Den fokuserar mestadels på vänskapen mellan Caddy, Rosie och Suzanne, och jag gillar den verkligen. Det är inte alltid lätt, och den tenderar att bli aningen giftig och destruktiv emellanåt. Men samtidigt utvecklas den till det allra bästa. Beautiful Broken Things handlar även om psykisk ohälsa, och jag tycker att det beskrivs oerhört bra här. Jag ska inte säga så mycket mer i risk för spoilers, men det kändes väldigt äkta och väl behandlat. I övrigt så är jag väldigt förtjust i att boken utspelar sig i Brighton, där jag själv har spenderat tre veckor, och det var så mycket jag kände igen och kunde leva mig in i.

När det kommer till karaktärerna så är jag inte helt övertygad när det gäller Caddy. Hon kändes inte helt äkta, och var lite för naiv för min del. Jag tyckte dock mycket om Rosie, och vänskapen mellan de båda. Men Suzanne var min favorit. Komplex, trasig och levande i ett. Stort plus för henne.

Beautiful Broken Things var en väldigt fin contemporary bok om kvinnlig vänskap. Jag tyckte mycket om den, och kan gärna rekommendera den.