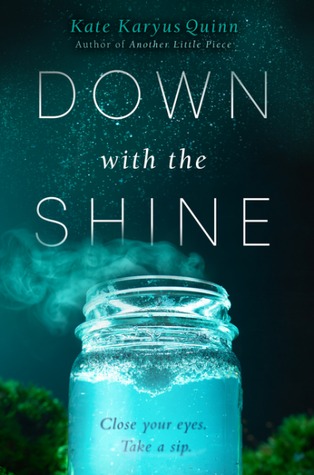 Titel:
Down with the Shine
Författare:
Kate Karyus Quinn
Serie:
-
Sidor:
355
Lennie always thought her uncles' "important family legacy" was good old-fashioned bootlegging. Then she takes some of her uncles' moonshine to Michaela Gordon's annual house party, and finds out just how wrong she was.

At the party, Lennie has everyone make a wish before drinking the shine—it's tradition. She toasts to wishes for bat wings, for balls of steel, for the party to go on forever. Lennie even makes a wish of her own: to bring back her best friend, Dylan, who was murdered six months ago.

The next morning gives Lennie a whole new understanding of the phrase be careful what you wish for—or in her case, be careful what wishes you grant. Because all those wishes Lennie raised a jar of shine to last night? They came true. Most of them came out bad. And once granted, a wish can't be unmade…
Jag har tyckt väldigt mycket om Kate Karyus Quinns föregående böcker, så givetvis var hennes nya, Down with the Shine, ett måste på min TBR. Och självklart så tyckte jag även väldigt mycket om den här boken.

Handlingen var en perfekt blandning av konstig och magisk. Precis som Quinns tidigare böcker. Här handlar det om Lennie, som har en förmåga att bevilja önskningar. Och en massa obehagligheter och konstigheter uppstår. Jag vill inte prata för mycket om handlingen, i risk för att spoila, och det jag precis har sagt var det enda jag visste om boken innan jag började läsa. Och det räcker. Spännande, rolig, romantisk, och aningen creepy from time to time. Down with the Shine är definitivt ett måste att läsa.

Av karaktärerna så tyckte jag mycket om Lennie. Hon var sarkastisk, och härlig. Men jag måste säga att jag föredrog -->

den hon blev i slutet. Efter hennes sista önskan. En bättre, och modigare, Lennie

, spoilers slut. Jag var lite osäker på Smith, allra helst i början. Men ju mer jag läste, desto mer gillade jag honom. Och jag tyckte mycket om relationen mellan honom och Lennie. Bi-karaktärerna vill jag inte säga så mycket om, men jag älskade Lennies morbröder. Så roliga.

Down with the Shine var en härligt konstig bok, och en jag tyckte väldigt mycket om. Rekommenderas varmt.