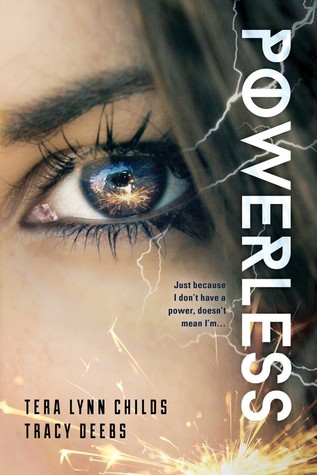 Titel:
Powerless
Författare:
Tera Lynn Childs & Tracy Deebs
Serie:
The Hero Agenda #1
Sidor:
295
Kenna is tired of being "normal". The only thing special about her is that she isn't special at all. Which is frustrating in a world of absolutes. Villains, like the one who killed her father, are bad. Heroes, like her mother and best friend, are good. And Kenna, unlike everyone else around her, is completely ordinary— which she hates.

She's secretly working on an experiment that will land her a place among the Heroes, but when a Villain saves her life during a break-in at her lab, Kenna discovers there's a whole lot of gray area when it comes to good and evil and who she can trust.. After all…not all strength comes from superpowers.
Eftersom jag älskar allt som har med superpowers/heroes/villains att göra så var definitivt Powerless ett måste på min att läsa lista. Jag köpte hem den så snart den släpptes, men det har dröjt cirka ett år för mig att plocka upp den. Men nu när uppföljaren är på gång så kände jag att det var dags, och självklart tyckte jag mycket om den.

Handlingen är kanske inte så djup, men den är oerhört underhållande. Redan från början fastnade jag för både boken och karaktärerna, och det som hade oroat mig lite i och med att Kenna var "powerless" försvann i första kapitlet, där hon på en gång visar hur badass hon är. Poweless var spännande, smart, hade en hel del snygga plot twister, och visar särskilt att allt inte bara är svart eller vitt. Jag var så förtjust i hur hjältarna -->

visade sig vara de största skurkarna

, och slutet var alldeles vansinnigt bra. Jag ska definitivt försöka skaffa hem nästa bok så snart som möjligt.

Av karaktärerna så gillade jag de flesta. Kenna var jättehärlig. Både smart och tuff. Draven började bra, men tappade lite där i mitten. Deras tjafsande och kemi var dock spot on, och gör att jag helt klart kan förlåta den insta-love som uppstod. Jag tyckte även mycket om Rebel, Dante och Nitro. Men favoriten var ändå Jeremy, jag gillar smarta killar med konspirationsteorier, helt enkelt. Gruppdynamiken var dessutom fantastisk, och det var så kul att följa utvecklingen och hur alla lärde sig att samarbeta och lita på varandra.

Powerless var kanske inte helt utvecklad i världsuppbyggnad eller djup, men trots det var den oerhört underhållande, och jag gillade både handlingen och karaktärerna mycket. Ser väldigt fram emot nästa bok, och jag rekommenderar den gärna.