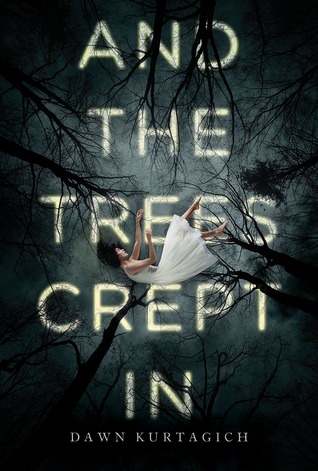 Titel:
And the Trees Crept In
Författare:
Dawn Kurtagich
Serie:
-
Sidor:
338
When Silla and Nori arrive at their aunt's home, it's immediately clear that the "blood manor" is cursed. The creaking of the house and the stillness of the woods surrounding them would be enough of a sign, but there are secrets too--the questions that Silla can't ignore: Who is the beautiful boy that's appeared from the woods? Who is the man that her little sister sees, but no one else? And why does it seem that, ever since they arrived, the trees have been creeping closer?
Dawn Kurtagichs The Dead House var en av mina favoritböcker förra året, och förväntningarna på den nya boken, And the Trees Crept In, har därför varit väldigt höga. Tyvärr tycker jag dock inte riktigt att den var så bra som jag hade önskat mig, även om jag ändå mestadels uppskattade den.

Handlingen var konstig. Superkonstig, faktiskt. Men eftersom jag gillar konstigheter så uppskattade jag den. Det fanns en hel del rysliga och obehagliga scener, även om den inte skrämde mig så som The Dead House gjorde. Ju mer man läser desto mer tappar man greppet på vad som egentligen pågår, och jag var mer än förvirrad emellanåt. Men sedan kom det totala och oerhört snygga mindfuck slutet, som defintivt höjde boken rejält i mina ögon. Faktiskt så mycket att jag fortfarande funderar på vad det egentligen var jag läste för något.

Karaktärerna är bokens absolut svagaste sida, och jag fick aldrig någon rätsida alls på Silla. Hon känns som en väldigt komplex och aningen galen karaktär, och med tanke på det virriga och hoppande berättarperspektivet så fick jag aldrig någon rätsida på henne. Och jag är ledsen, men det ska krävas fantastiskt mycket för att jag ska kunna älska en bok där jag knappt bryr mig om huvudkaraktären. Och And the Trees Crept In når, tyvärr, aldrig den gränsen. Den innehåller även ett par bi-karaktärer jag knappt brydde mig om, och en romans som jag först valde att kalla för en fruktansvärd insta-love. Men i och med att allt till sist får sin förklaring, så väljer jag att inte gå in närmre eller klaga något på det här.

And the Trees Crept In var en annorlunda men bra läsupplevelse. Bristen på karaktärerna och deras utveckling drar ner på betyget, men slutet däremot höjer det ordentligt igen (och ger även en bättre förståelse för karaktärerna). Jag är lite tveksam på var boken hamnar på betygsskalan, men med tanke på det imponerande slutet så väljer jag att vara generös idag.