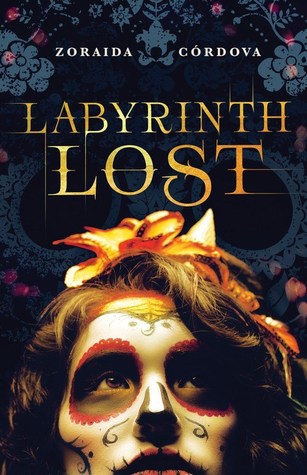 Titel:
Labyrinth Lost
Författare:
Zoraida Córdova
Serie:
Brooklyn Brujas #1
Sidor:
321
Nothing says Happy Birthday like summoning the spirits of your dead relatives.

Alex is a bruja, the most powerful witch in a generation…and she hates magic. At her Deathday celebration, Alex performs a spell to rid herself of her power. But it backfires. Her whole family vanishes into thin air, leaving her alone with Nova, a brujo boy she can't trust. A boy whose intentions are as dark as the strange markings on his skin.

The only way to get her family back is to travel with Nova to Los Lagos, a land in-between, as dark as Limbo and as strange as Wonderland…
Jag hörde mycket bra om Labyrinth Lost, men det dröjde ett bra tag innan mitt intresse väcktes. Men så helt plötsligt kom det där suget efter att läsa boken, och jag beställde genast hem den. Kanske hade jag inte gillat den lika mycket om jag inte läst den vid rätt tillfälle, men som det var idag så absolut älskade jag den.

Handlingen var oerhört spännande och fascinerande. Jag älskar det här med brujas och brujos (en särskild sorts magiker), och den spanska/latinamerikanska bakgrunden. Jag gillar också hur "den utvalda" egentligen inte vill ha sina krafter, utan gör allt för att förtrycka dem. Själva Los Lagos var fantastiskt, som Underlandet på crack. Sjukt fantasifullt, skrämmande och obehagligt allt i ett. Älskade slutet, och faktumet att boken kan stå på egna ben, även om det kommer att komma en fortsättningen. Och epilogen gör definitivt att jag längtar efter att få läsa mer.

Alex var en väldigt intressant karaktär, och även om jag inte riktigt förstod mig på henne i början så kunde jag inte låta bli att heja på henne. Hennes utveckling var dessutom riktigt bra gjord, och jag älskade den person hon blev i slutänden. Nova var väldigt fängslande, och även om jag tyckte att han kändes så stereotypisk i början så tyckte jag bara mer och mer om honom. Gillade även Rishi mycket, även om jag gärna hade velat lära känna henne bättre. Älskade relationerna mellan de tre, och romansen var superb (och aningen överraskande).

Labyrinth Lost var magisk och skrämmande, och jag blev alldeles förälskad i både världen och karaktärerna. Så glad att jag gav boken en chans, och jag rekommenderar den mer än gärna.