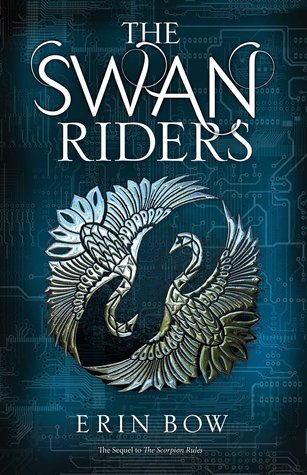 Titel:
The Swan Riders
Författare:
Erin Bow
Serie:
Prisoners of Peace #2
Sidor:
376
Spoilervarning! Boken ingår i en serie, spoilers från tidigare böcker förekommer.
Greta Stuart had always known her future: die young. She was her country's crown princess, and also its hostage, destined to be the first casualty in an inevitable war. But when the war came it broke all the rules, and Greta forged a different path.

She is no longer princess. No longer hostage. No longer human. Greta Stuart has become an AI.

If she can survive the transition, Greta will earn a place alongside Talis, the AI who rules the world. Talis is a big believer in peace through superior firepower. But some problems are too personal to obliterate from orbit, and for those there are the Swan Riders: a small band of humans who serve the AIs as part army, part cult.

Now two of the Swan Riders are escorting Talis and Greta across post-apocalyptic Saskatchewan. But Greta's fate has stirred her nation into open rebellion, and the dry grassland may hide insurgents who want to rescue her – or see her killed. Including Elian, the boy she saved—the boy who wants to change the world, with a knife if necessary. Even the infinitely loyal Swan Riders may not be everything they seem.

Greta's fate—and the fate of her world—are balanced on the edge of a knife in this smart, sly, electrifying adventure.
Jag älskade första boken, The Scorpion Rules, i den här serien när jag läste den förra året. Verkligen älskade. Så förväntningarna på den här uppföljaren har varit väldigt höga. Och tyvärr måste jag säga att den inte alls levde upp till dessa.

Alltså, det här är nog årets största besvikelse för mig. Jag var så laddad, och det känns som att hela boken föll platt. Ingenting hände, och de första 200+ sidorna gick bara ut på att de red omkring. Strax efter 200 sidors markeringen så verkade det lyfta lite, och jag älskade när de två Talisarna sassade varandra. Och sen föll den igen. Visst, det var aningen intressant att se världen ur synpunkten från både en och flera AIs, men det räcker inte på långa vägar. Om du frågar mig nu vad boken handlade om så kan jag knappt svara på det. För handlingen var i princip icke existerande. Och jag är bara så, så himla ledsen över det.

Karaktärerna tappade också mycket. Jag förstår att Greta inte är densamma efter att ha blivit en AI, men allt det som gjorde henne så fantastisk har försvunnit. Talis var varken skrämmande eller rolig, och det var bara när det var två av dem, som jag kände igen honom. Ingen Xie alls, vilken jag saknade oerhört. De nya karaktärerna var inte ett dugg intressanta, och jag fastnade inte för någon utav dem (hur gripande deras historier än försökte vara). Tacka gud för Elian dock, som åtminstonde lyfte upp showen en aning.

Slutet höjde boken lite i mina ögon, men jag hoppas verkligen att det kommer en tredje. För om det är så här det slutar så önskar jag verkligen att jag inte hade läst den här boken i över huvud taget. The Swan Riders var en enorm besvikelse, och det är bara min stora kärlek för första boken och karaktärerna, samt för de ytterst få ögonblick av ren briljans som betyget ändå blir så pass "högt". Men mest vill jag bara gråta, för jag förväntade mig så mycket mer.