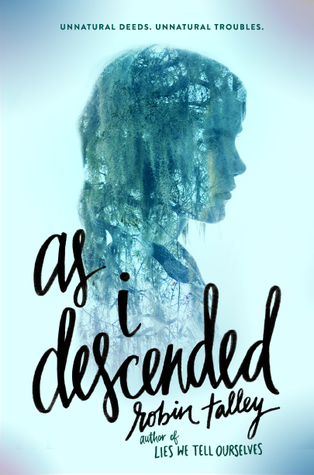 Titel:
As I Descended
Författare:
Robin Talley
Serie:
-
Sidor:
370
Maria Lyon and Lily Boiten are their school's ultimate power couple—but one thing stands between them and their perfect future: campus superstar Delilah Dufrey. Golden child Delilah is a legend at exclusive Acheron Academy, and the presumptive winner of the distinguished Cawdor Kingsley Prize. But Delilah doesn't know that Lily and Maria are willing to do anything—absolutely anything—to unseat Delilah for the scholarship. After all, it would lock in Maria's attendance at Stanford—and assure her and Lily four more years in a shared dorm room.

Together, Maria and Lily harness the dark power long rumored to be present on the former plantation that houses their school. But when feuds turn to fatalities, and madness begins to blur the distinction between what's real and what's imagined, the girls must attempt to put a stop to the chilling series of events they've accidentally set in motion.
As I Descended hamnade omedelbart på min att läsa lista skunden jag hörde talas om den. Delvis för att jag älskade Robin Talleys Lies We Tell Ourselves, delvis för att en lesbisk re-telling av Macbeth kunde väl inte vara annat än bra?

Handlingen står på egna ben, trots att det är en re-telling. Här är det ungdomar på en privatskola, rivalitet och spöken inblandade. För den som känner till pjäsen så är det dock lätt att lista ut hur allt ska sluta. Macbeth räknas ju inte till tragedierna för inget. Men resan dit är både spännande och obehaglig, och ju längre tiden går desto mer funderar jag på vad som är verkligt och inte. Utomordentligt skriven och oerhört fängslande.

Karaktärerna är kanske inte direkt de mest älskvärda, men av förklarliga skäl. Min favorit var Brandon, den enda som var alltigenom en fin person. Maria var en väldigt intressant karaktär, men jag hade gillat det ännu bättre om -->

hon inte fått dåligt samvete för allt, utan istället bara kört ett helt hänsynslöst race

, spoilers slut. Jag gillade dessutom relationen mellan Maria och Lily mycket, dock allra helst i början, och jag hade gärna sett ännu mer av den.

As I Descended var en riktigt bra bok. Dock drar det ner lite på betyget att jag förstod hur det skulle sluta, även om vägen dit var långt ifrån förutsägbar. Men kuslig, tragisk och helt klart mer än läsvärd. Robin Talley fortsätter att imponera på mig och jag ser fram emot att läsa mer av henne i framtiden.