Titel:
My Heart and Other Black Holes
Författare:
Jasmine Warga
Serie:
-
Sidor:
302
Sixteen-year-old physics nerd Aysel is obsessed with plotting her own death. With a mother who can barely look at her without wincing, classmates who whisper behind her back, and a father whose violent crime rocked her small town, Aysel is ready to turn her potential energy into nothingness.

There's only one problem: she's not sure she has the courage to do it alone. But once she discovers a website with a section called Suicide Partners, Aysel's convinced she's found her solution—Roman, a teenage boy who's haunted by a family tragedy, is looking for a partner. Even though Aysel and Roman have nothing in common, they slowly start to fill in each other's broken lives. But as their suicide pact becomes more concrete, Aysel begins to question whether she really wants to go through with it. Ultimately, she must choose between wanting to die or trying to convince Roman to live so they can discover the potential of their energy together.
Jag har varit lite smått intresserad av My Heart and Other Black Holes sedan jag först hörde talas om den, men det var inte förrän nyligen som jag beslöt mig för att beställa hem den. Och jag måste säga att det var tur, för det visade sig vara en bok jag tyckte mycket om.
Handlingen känns ganska tragisk, och jag tycker definitivt att boken ger en bra beskrivning av hur det är att vara deprimerad. Jag har dock lite svårt för att köpa hela konceptet, just det här med att, markera för spoilers -->

kärleken kan rädda en och att Aysel blev så mycket bättre så snabbt

, spoilers slut. Jag hade även lite svårt för Roman, men däremot tyckte jag mycket om Aysel. Men i det stora hela så var My Heart and Other Black Holes en riktigt bra bok, och jag rekommenderar den gärna.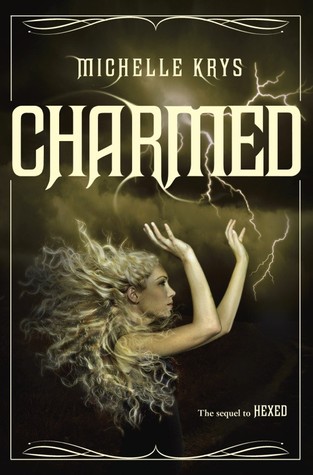 Titel:
Charmed
Författare:
Michelle Krys
Serie:
The Witch Hunter #2
Sidor:
358
Spoilervarning! Boken ingår i en serie, spoilers från tidigare böcker förekommer.
Indie has spent the last few weeks frantically searching for Paige. She's tried every spell imaginable, but witchcraft has gotten her nowhere, and she's going crazy with guilt. Despite what her warlock boyfriend, Bishop, tells her, Indie knows it's her fault her best friend was kidnapped by the Priory. And with the Priory destroyed, finding Paige feels more hopeless than ever-especially when Indie discovers that Paige isn't even on Earth. She's trapped in Los Demonios, an alternate dimension of Los Angeles filled with evil paranormals. No one who has gone there has ever come out.

Fueled by terror and loyalty, Indie is desperate to find a way into the underworld prison. She'll worry about getting out later. But facing the dark world's most dangerous witches and warlocks on her own means keeping her plan hush-hush-and forging alliances with some sketchy people, including a seriously sexy sorcerer.
Jag var väldigt förtjust i första boken i den här serien när jag läste den, och
har sedan dess längtat efter att få läsa den här uppföljaren. Charmed var kanske inte riktigt lika bra som sin föregångare, men det var ändå en bok jag gillade mycket.
Handlingen var både spännande och full av magi och jag tyckte mycket om den. Även karaktärerna är väldigt härliga och jag gillar Indies utveckling sedan den första boken. Slutet var dessutom bra, och jag är nöjd med att lämna serien här, samtidigt som möjligheten till en till bok finns. Både Hexed och Charmed är böcker jag gärna rekommenderar till den som gillar häxor och magi.